In the run up to the presidential elections, the marine energy industry gathered in Le Havre for the Seanergy trade fare and a policy conference on 22 March. The gathering, which featured senior industry representatives, the President of the Normandy region and the French Director General for Energy and Climate, was hosted by WindEurope member Syndicat des Energies Renouvelables.
Delegates heard from representatives of four of the candidates vying for the presidency: François Fillon (Les Républicains), Benoît Hamon (Socialist Party) Marine Le Pen (National Front) and Jean-Luc Mélenchon (far Left). While all parties regretted the lack of recently installed capacity in marine energies in France, they sharply contrasted on solutions.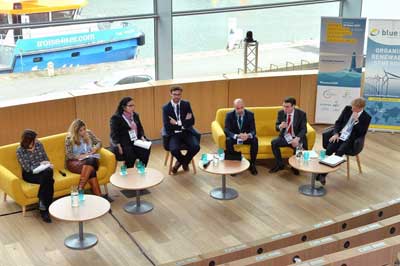 The conservative representatives' main policy prescription was a €30 carbon price while the socialist spokesman preached for continuity and investment certainty. The representative of the far Left made the case for a State-driven energy transition while the National Front reiterated their call for a moratorium on wind energy installations. Both of the latter representatives painted EU rules as a major roadblock to the energy transition.
In the following session, featuring industry representatives, WindEurope Chief Policy Officer Pierre Tardieu noted that 2016 had been a record year for offshore wind finance with more than €22Bn invested, while detailing developments in the Netherlands, Germany, the UK and Belgium. Tardieu described the significant cost reductions observed in the context of recent tenders, notably in the Netherlands and Denmark. Maintaining this cost reduction trend would only be possible with a minimum of 4 GW of installations per year.
The WindEurope representative concluded that the EU framework could actually significantly contribute to investor certainty and called on policymakers to start developing their National Energy and Climate Plans for 2020-2030 as proposed by the European Commission. This would go a long way toward clarifying the volumes of offshore wind energy to be deployed in the next decade.