Amid a challenging year for the offshore wind sector, recent setbacks have increased costs but are now also starting to spur vital policy changes. The industry is now in a position to reverse setbacks and advance toward ambitious goals, encouraging greater investments in renewables and job growth over the next decade
Søren Lassen
Head of Offshore Wind Research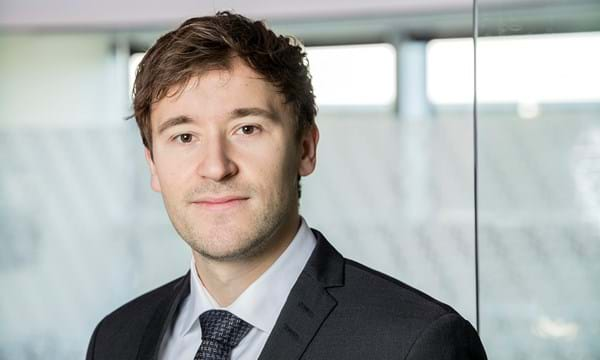 The offshore wind sector has had an undeniably tough year. These setbacks have translated into delays for both projects and supply chain investments. They have challenged project economics and had a detrimental impact on share prices for both developers and suppliers. Ultimately, this has also pushed policy-makers further away from reaching their 2030 targets for offshore wind and – in turn – wider net zero ambitions
The silver lining for the offshore wind industry
However, these setbacks have forced suppliers, developers, investors, and policymakers to align around the fact that the costs for offshore wind have gone up. The acceptance is now translating into policy at a pivotal moment which can help get offshore wind back on a more sustainable course. Some examples of progressive policies include:
NYSERDA's award of 4 GW of offshore wind capacity in New York: In a landmark achievement, the New York State Energy Research and Development Authority (NYSERDA) recently announced the award of a staggering 4 gigawatts (GW) of offshore wind capacity. This award, which is the largest-ever state investment in offshore wind in the United States, marks a significant step toward achieving New York's ambitious renewable energy goals. The projects under this award come with improved terms and conditions compared to previous rounds, reflecting the state's commitment to facilitating offshore wind development. This not only enhances the attractiveness of offshore wind investments in New York but also demonstrates a growing momentum in the U.S. for offshore wind projects. The New York award is poised to accelerate offshore wind deployment in the region, contributing to the state's energy transition and setting a precedent for other states to follow suit.
The European Commission's release of the European Wind Power Action Plan: This plan focuses on "acceleration of deployment through increased predictability and faster permitting; (ii) improved auction design; (iii) access to finance; (iv) creating a fair and competitive international environment; (v) skills; and (vi) industry engagement and Member State commitments."
What will these changes mean for offshore wind?
The introduction of these policies is of paramount importance as unlike 10 years ago, policymakers' decisions can materialise faster as the pipeline is stronger (active pipeline is now at 1.7 TW) and a sizeable portion of the pipeline is in advanced stages of permitting.
Similarly, more than 40 GW of offshore wind tenders are due to be awarded over the coming 14 months. These factors empower the policymakers to reverse a lot of the recent setbacks and come out even stronger.
However, more is needed for this to materialise. The focus should be on getting projects online before 2029 and after 2031. The proposed flash solicitation in New York is advantageous in this context. In the longer-term, tender budgets would need to be adjusted, similar to New York.
The question then becomes: how much should budgets and ceiling prices be increased?
This depends on the project, market and timing. However, in this context it is relevant to not only look at previous awarded prices but also the bidding ceilings of these tenders. The graph below shows how the awarded prices have been significantly below the ceiling prices offered by governments. This shows that a) governments have historically allowed for higher bid prices and b) that it is not enough for governments to increase ceilings. Developers also need to bid higher.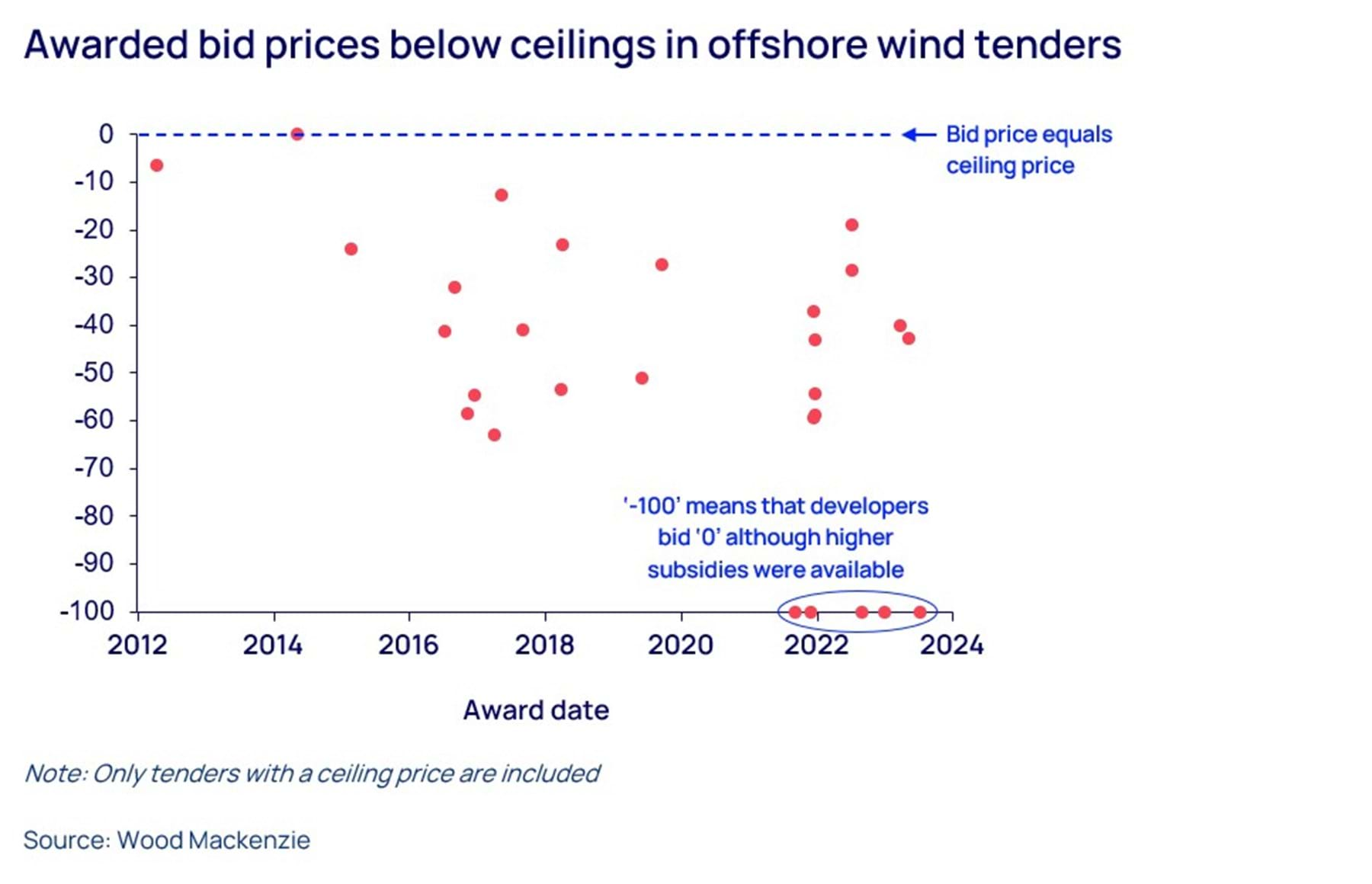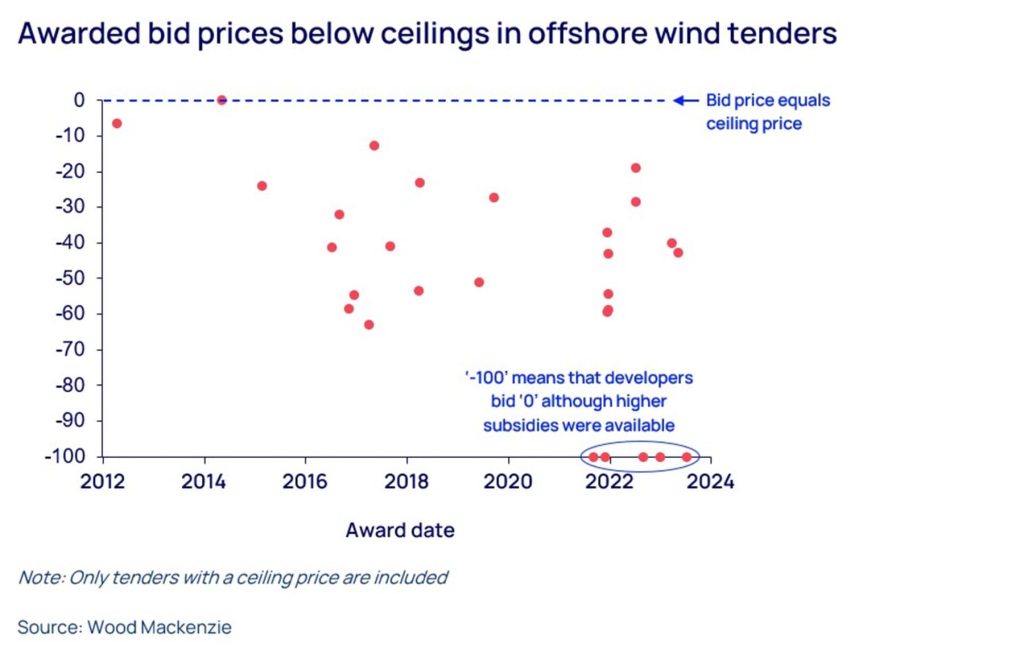 Final thoughts
Momentum should not be underestimated – especially when it comes to policy. There is therefore reason to believe that these positive developments will proliferate into other regions and markets.
The sector now needs to capitalise on this momentum to drive investment decisions on both projects and supply chain facilities to maximise the renewables buildout in the 2020s and 2030s – and the jobs and green power that comes with it.
Learn more
For more insights into the future of offshore wind, read our recent Horizons thought leadership piece on 'Cross currents: charting a sustainable course for offshore wind'.
Or, read our latest edition of Ed Crooks' Energy Pulse; 'Offshore wind at a pivotal moment'.