Dogger Bank is now connected to Britain's national grid and has started exporting electricity for the first time to British homes and businesses. This is a major milestone in the development of the industry and the transition to a cleaner, more secure energy system.
The 3.6 GW Dogger Bank Wind Farm is being constructed in UK waters 70 nautical miles (130km) off the coast of Yorkshire and in the UK's North Sea in three 1.2 GW phases known as Dogger Bank A, B and C. The first turbine at Dogger Bank A has started turning and producing electricity. Power from the offshore wind farm is now being transmitted to the UK's national grid via Dogger Bank's high-voltage direct current (HVDC) transmission system, marking the first-time use of HVDC technology on a UK wind farm.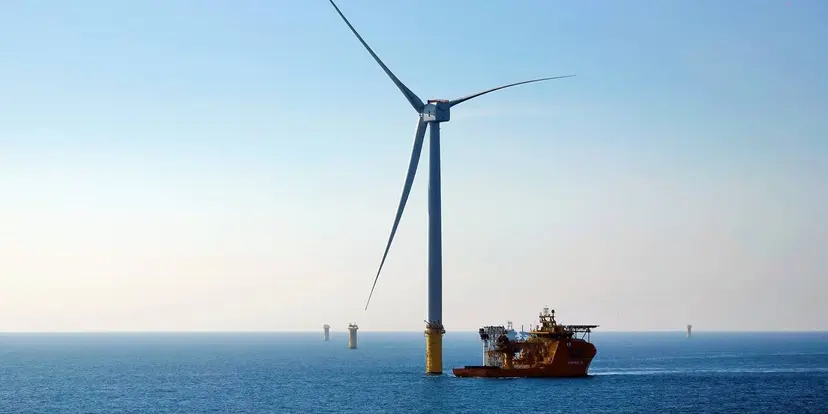 When complete, Dogger Bank will be the world's largest offshore wind farm.
(Photo: Dogger Bank Wind Farm)
First power followed the installation of the first of GE Vernova's Haliade-X 13 MW turbines, one of the largest and most powerful globally, at the Dogger Bank site. This is the first time Haliade-X units have been energized offshore anywhere in the world. Each rotation of the 107m long blades can produce enough energy to power an average British home for two days.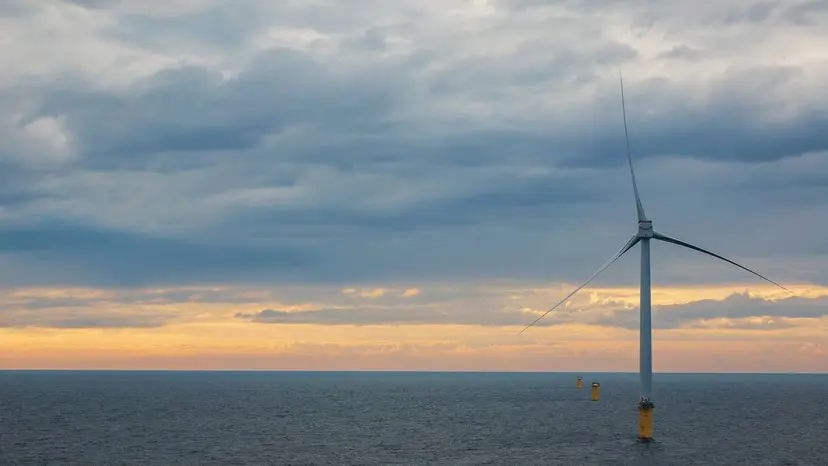 Wind turbine at Dogger Bank Wind Farm
(Photo: Dogger Bank Wind Farm)
Equinor, as lead operator during the operational phase of the wind farm, will maintain and operate Dogger Bank over its expected 35-year lifetime. Operations and maintenance will be carried out from the recently opened O&M base at the Port of Tyne. The base will host around 400 jobs, including staff from the Dogger Bank Wind Farm, Equinor, GE Vernova and North Star.
Dogger Bank sits approximately 130km (80 miles) off the coast of Yorkshire and will occupy an area almost as large as Greater London and nearly twice the size of New York City. When fully complete, its 3.6 GW capacity will comprise 277 offshore turbines capable of producing enough energy to power the equivalent of six million British homes annually.
The first power milestone marks the first of what will eventually be 277, 260-meter-tall turbines providing power from the project. Each of these turbines will be progressively installed and commissioned between now and planned full commercial operation in 2026.
When complete, Dogger Bank will be the world's largest offshore wind farm, more than two and a half times the size of the largest offshore wind farm currently in operation.
UK Prime Minister Rishi Sunak said:
"Offshore wind is critical to generating renewable, efficient energy that can power British homes from British seas."
"I'm proud that this country is already a world leader in reaching Net Zero by 2050, and by doubling down on the new green industries of the future, we'll get there in a way that's both pragmatic and ambitious."
"That's why it's fantastic to see the world's largest wind farm, Dogger Bank, generating power for the first time today from UK waters, which will not only bolster our energy security, but create jobs, lower electricity bills and keep us on track for Net Zero."
Dogger Bank is being developed and built by a joint venture comprising Equinor, SSE Renewables and Vårgrønn (a joint venture of Eni Plenitude and HitecVision). SSE Renewables is lead operator for the development and construction phase while Equinor will be lead operator of the wind farm for its expected operational life. Vårgrønn brings specialist offshore wind expertise to the project.
Anders Opedal, CEO of Equinor, said:
"Set against the broader energy context, Dogger Bank, the world's largest offshore wind farm demonstrates the best of what the offshore wind industry can offer, with innovative technologies, long-term jobs and economic growth and security of electricity supply at a major scale."
"A renewable mega-project like Dogger Bank constitutes an industrial wind hub in the heart of the North Sea, playing a major role in the UK's ambitions for offshore wind and supporting its net zero ambitions."
"First power from Dogger Bank, is a testament to the collaboration between the authorities, the project partners, suppliers and our host communities to realise this project."
Alistair Phillips-Davies, Chief Executive of SSE, said:
"There's been lots of talk about the need to build homegrown energy supplies, but we are taking action on a massive scale. Dogger Bank will provide a significant boost to UK energy security, affordability and leadership in tackling climate change. This is exactly how we should be responding to the energy crisis.
"But it is also a landmark moment for the global offshore wind industry, with Dogger Bank demonstrating just what can be achieved when policymakers, investors, industry, and communities work together to achieve something truly remarkable.
"The innovations this pioneering project has developed will also mean future developments can be built faster and more efficiently, accelerating the clean energy transition. Now, of course, the challenge is to accelerate the next wave of these projects and we look forward to working with governments to bring these forward as soon as possible."
Olav Hetland, CEO of Vårgrønn, said:
"Dogger Bank's first power milestone demonstrates that offshore wind is ready to power Europe's energy transition.
"While today we celebrate Dogger Bank providing its first power, the offshore wind farm is delivering much more than renewable energy. The project has contributed to building industry and creating local jobs and will continue to do so over several decades. Maximising these positive local ripple effects of offshore wind projects is essential to maintaining strong support for offshore wind and the energy transition.
"Looking ahead, we expect the Northeast of England to hold a central place in Europe's offshore wind future."
World-firsts in supply chain delivery
The Dogger Bank project has delivered several world-firsts in supply chain delivery that will significantly accelerate the speed at which future offshore projects can be developed. GE Vernova's new 13MW Haliade-X turbine technology was completed by technicians and engineers working off Jan De Nul Group's newest jack-up installation vessel, Voltaire. With a lifting capacity of 3,200 tonnes, the Voltaire is the largest offshore jack-up installation vessel of her kind in the world and the first ultra-low emissions ship of its kind.
Dogger Bank also marks the first use of HVDC transmission technology to connect a British wind farm to National Grid's UK energy network. This includes the installation of the world's first unmanned offshore HVDC substation platform at the site, as well as first use of Hitachi Energy's HVDC Light® transmission system which was executed in record time of 38 months with the highest safety and quality standards.
GE Vernova Offshore Wind CEO Jan Kjaersgaard said:
"We are delighted to have energized the first Haliade-X turbine at sea as part of the Dogger Bank Wind Farm, and we want to congratulate our customers and thank all of our partners on achieving this important milestone.At GE Vernova we are committed to electrifying the world while simultaneously working to decarbonize it. We are honored to have been able to provide the first of a next generation of 13MW+ turbines for this historic project, reinforcing the critical role of technology innovation in meeting the challenges of climate change."
Jan Van Impe, Manager Jan De Nul Offshore Renewables at Jan De Nul Group, added:
"Our Voltaire has proven today that the scale and characteristics of the offshore Dogger Bank turbines offer the perfect challenge for this next generation state-of-the art jack-up installation vessel. We are excited to have installed the very first offshore GE Haliade-X turbine on the Dogger Bank Wind Farm in a sustainable and efficient way, and we are looking forward to continuing this mission with industry leaders SSE Renewables, Equinor and Vårgrønn to further construct the energy transition for the UK energy market."
Claudio Facchin, Chief Executive Officer, Hitachi Energy, said:
"The urgent energy transition requires strong collaboration, new business models, and global standards. We are proud to be the technology partner for the Dogger Bank Wind Farm project, with HVDC being the force multiplier for the clean energy transition, increasing access to an energy system that is more sustainable, flexible and secure. Today is a significant milestone in securing the UK's future energy needs, made possible by foresighted partners such as SSE, Equinor and Vårgrønn, that have made the UK a leader in the transition to clean power."
Roisin Quinn, director of customer connections at National Grid, said:
"It's a momentous engineering achievement and landmark moment to see Dogger Bank exporting its first power onto the grid. When operational as the world's biggest wind farm, its turbines will play a key role supplying Britain with green, homegrown energy. We're proud to have played our part reinforcing our Creyke Beck substation in readiness to safely connect that clean power to our network, and on to homes and businesses around the country."
Creating local jobs
More than 2,000 UK jobs have been created or supported in relation to the construction and operation activities of Dogger Bank. Many of these are based in the north of England, where the project's supply chain is creating long-term opportunities for people just starting out in their careers, as well as more experienced workers transitioning from other industries to renewable energy.
RenewableUK's Chief Executive Dan McGrail said:
"The sheer scale of Dogger Bank shows that offshore wind is taking centre stage in Britain's clean energy system as we move away from expensive imported fossil fuels to secure cheap homegrown power.
"This massive innovative clean energy project is a significant step forward for the UK's world-leading offshore wind industry, creating thousands of jobs and attracting billions in private investment.
"Coastal communities in the north of England and beyond are benefitting from the new industrial opportunities which offshore wind is providing. This shows that the Government is right to press ahead with policies to increase our energy security by ensuring that vital new clean energy projects can be built faster".
Equinor
Equinor?has an ambition to be a leading company in the energy transition and believes its energy solutions will contribute to the low-carbon Europe of the future. It aims to reach net zero emissions globally by 2050. The international energy company headquartered in Norway employs 22,000 people globally, and over 650 in the UK.
Equinor is a leading broad energy partner to the UK, developing domestic energy resources, generating low-carbon electricity and supplying natural gas. Equinor has been operating in the UK for 40 years. Here it currently powers around 750,000 UK homes through its three operational wind farms; Sheringham Shoal, Dudgeon, and the world's first floating wind farm, Hywind Scotland.
In addition to a strong foothold in the North Sea, with Dogger Bank Wind Farm as the flagship project, the company is also building material offshore wind clusters in the Baltyk Sea and on the US East Coast. Equinor is the world's most experienced operator of floating offshore wind, being operator of Hywind Scotland and Hywind Tampen off the coast of Norway.
SSE plc
SSE's purpose is to provide the energy needed today while building a better world of energy for tomorrow. We do this by developing, building, operating and investing in world-class electricity infrastructure that is vital to the clean energy transition.This includes onshore and offshore wind farms, hydro, electricity transmission and distribution networks, flexible generation, carbon capture and hydrogen storage, solar and batteries, as well as providing energy products and services for businesses and other customers.
A FTSE-100 company headquartered in the UK, SSE has a growing presence in selected international markets in Europe, Asia and North America. We employ c.12,000 talented and skilled people and are a proud 'real Living Wage' and 'Living Hours' employer and accreditee of the 'Fair Tax Mark'.SSE was also the first company in the world to develop a 'Just Transition Strategy' aimed at ensuring the benefits of the clean energy transition are shared by workers and communities.
Vårgrønn
Vårgrønn is an agile, Norway-based offshore wind company powering the energy transition through development, construction, operation, and ownership of offshore wind assets. Vårgrønn is a joint venture between the energy company Plenitude (Eni) and the Norwegian energy entrepreneur and investor HitecVision.
Vårgrønn currently holds a 20 percent stage in the world's largest offshore windfarm under construction, Dogger Bank in the UK and has received exclusivity to develop up to 1.9 GW of floating offshore wind in Scotland together with partner Flotation Energy. Vårgrønn is also bidding for floating and bottom-fixed offshore wind projects in Norway together with partners. In the Baltics, Vårgrønn is leading a cooperation with European Energy to prepare for the upcoming auction rounds in Lithuania, Latvia, and Estonia, and in Ireland, Vårgrønn is working together with Energia Renewables to advance offshore wind projects.Vårgrønn targets at least 5 GW of offshore wind in operation or sanctioned by 2030 across Northern Europe.