China's offshore wind power installed capacity ranked first in the world for two years in a row, and the industry is set to play an important role in achieving China's carbon neutrality goal by 2060.
China is a latecomer in the field of offshore wind power. Back in 2012, the whole country only had a capacity of about 390,000 kilowatts.
But after a decade of development, the country now boasts a capacity of over 30,000,000 kW. This amount is about half of the global total, which means China has more capacity than all other countries combined.
A classic example of China's achievement in this area is the operation of the world's largest 16-megawatt offshore wind turbine in July.
The turbine, located in southeast China's Fujian Province, has a wheel hub as high as 146 meters. The impeller of the offshore wind turbine can sweep an area of about 50,000 square meters, equivalent to seven standard football fields put together.
The average annual output of the turbine is more than 66,000,000 kilowatt hours, sufficient to power 36,000 three-member households for a year.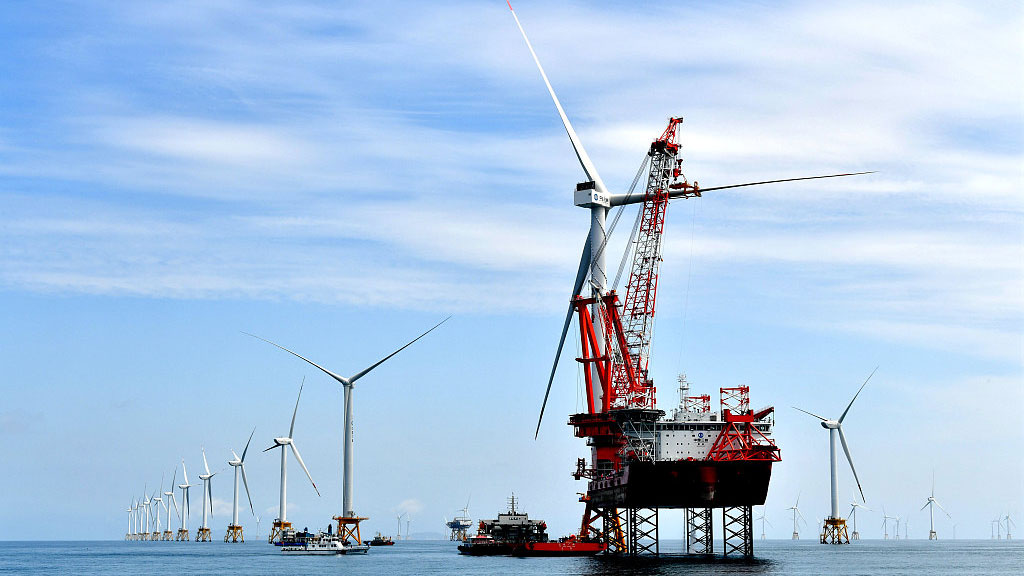 The world's largest 16-megawatt offshore wind turbine is under construction, southeast China's Fujian Province, June 28, 2023. /CFP
The cost of generating electricity with offshore wind farms is reducing, according to Qin Haiyan, a wind power expert at China Renewable Energy Society.
"Currently, the average cost has reduced to about 0.33 yuan per kWh," Qin told Xinhua News Agency. "The cost will be as low as other sources of electricity by 2025."
What's more, Qin said China is only leveraging less than 1.1 percent of the total potential of the offshore wind.
China has already planned an array of 10,000,000 kW power plants off the shores of Shandong Province, the Yangtze Peninsula and other areas, aiming to produce more clean energy for the country's carbon neutrality goal.