A recent analysis by Berkeley researchers, in collaboration with nonprofit clean energy research firm GridLab and climate policy think tank Energy Innovation, revealed that there are more than 4,000 gigawatts (GW) of offshore wind potential along the US coast. This immense potential could meet up to 25% of the country's energy demand by 2050, contributing to the Biden administration's goal of cutting emissions in half by the end of the decade.
The analysis also predicts that offshore wind development could bring significant economic benefits, including $1.8 trillion in investment and the creation of up to 390,000 jobs.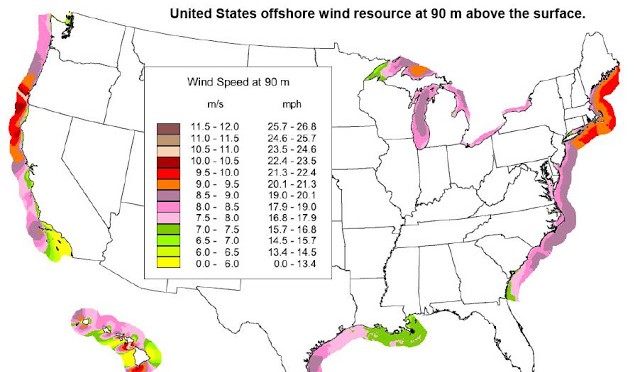 The urgency of transitioning to clean energy sources is further highlighted by the projected tripling of US electricity demand by 2050, driven by a growing economy and increased electrification of vehicles and homes. This puts additional strain on the power grid, emphasizing the need for rapid expansion of the power supply.
According to the report, to meet growing demand and achieve climate goals, the US needs to add 27 GW of offshore wind and 85 GW of onshore wind and solar each year between 2035 and 2050. This is a significant acceleration compared to with the Biden administration's current goal of deploying 30 GW of offshore wind power by 2030. By comparison, Europe, with a smaller power grid, already possesses similar offshore wind power capacity.
Wind power currently accounts for just over 10% of the US electricity mix, predominantly from onshore turbines. The country currently has just two small offshore wind farms, with construction underway on the first commercial-scale wind farm on Martha's Vineyard, Massachusetts.
One of the challenges facing wind power developers is rising project costs due to higher interest rates and raw material prices. This has resulted in the abandonment of power purchase agreements for some early-stage projects, making it difficult for the offshore wind industry to develop. However, the study suggests that with an ambitious rollout of renewable energy, there would only be a modest 2 to 3 percent increase in wholesale electricity costs, and falling renewable energy costs over time could offset this. these increases.
The report highlights that wind power is a complementary source to solar power, as wind power production is higher during peak demand periods, such as summer on the West Coast and winter on the East Coast.