Six massive wind turbines were recently erected in the town of Sainte-Croix, Switzerland, near the French border. The turbines, assembled by Germany's Enercon, stand at an impressive height of 139 meters or 456 feet from the base to the tip of their blades.
Operated by Swiss utility Romande Energie, these wind turbines are expected to generate enough clean energy to meet the needs of 6,100 households. In fact, their capacity is sufficient to power the entire energy consumption of Sainte-Croix, including its industrial sector.
This development is a significant stride towards increasing the country's supply of renewable energy. Switzerland has faced challenges in the past due to local opposition, with only 41 wind turbines operational in the country last year.
According to Suisse Eole, an association that promotes wind energy, the expansion of wind power is crucial for Switzerland's energy security. The association highlighted the weakened energy situation caused by the Ukraine war's impact on gas supplies to Europe and reduced hydropower production due to lower water levels caused by climate change.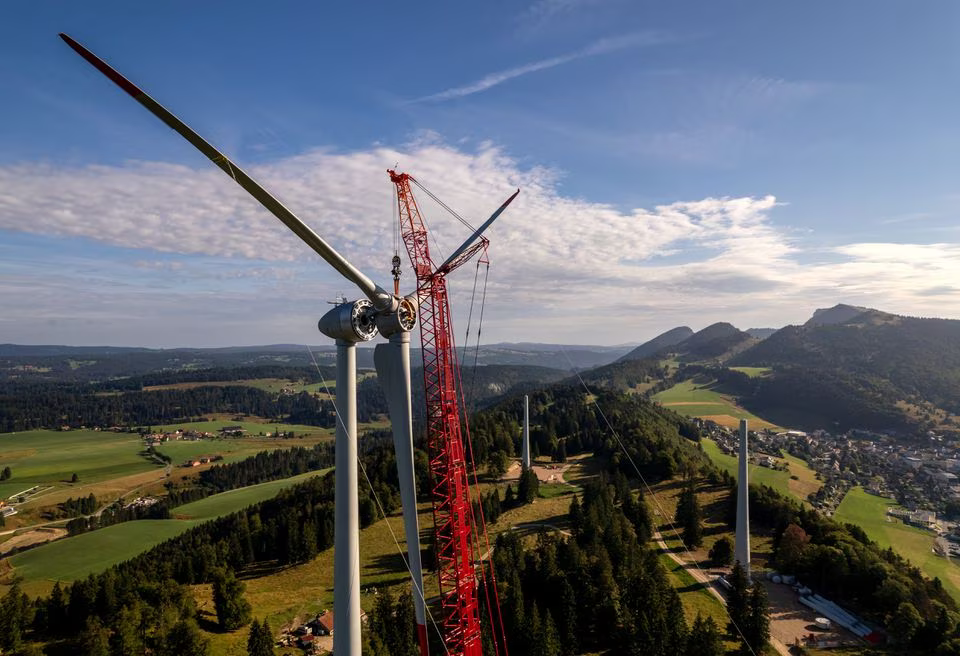 A crane of Enercon lifts a full hub consisting of three blades and the rotor for a wind turbine for Romande Energie in Ste-Croix, Switzerland, July 31, 2023. REUTERS/Denis Balibouse
Wind energy has faced resistance from groups that argue it negatively affects the countryside and reduces property values. Nonetheless, the installation of these wind turbines in Sainte-Croix demonstrates a commitment to embracing clean energy alternatives and reducing dependence on non-renewable sources.
In summary, the erection of these six wind turbines is a positive step forward for Switzerland in increasing the production of renewable energy. It signifies the country's dedication to achieving energy security, reducing greenhouse gas emissions, and embracing sustainable development.
– Enercon https://www.enercon.de/en/home/
– Romande Energie https://www.romande-energie.ch/
– Suisse Eole https://suisse-eole.ch/