Offshore wind energy, also called offshore wind energy, plays a very important role in the global transition to green energy. At Ørsted, we work to develop the potential of wind energy around the world.
Today, through technological innovation, we have managed to reasonably reduce the cost of obtaining wind energy. Thus, as with land and solar power, it is now possible for offshore wind power to generate electricity at a cheaper price per megawatt-hour than that produced from fossil fuels in North-West Europe.

average cost of electricity
In 1991 we built the world's first offshore wind farm and have already installed more offshore wind farms than any other company, breaking the record for the world's largest wind farm several times. We also have the largest installed capacity, deep technical expertise and the largest pipeline of new projects among offshore wind farm developers.
Floating offshore wind power, the most viable for Spain
After thirty years as world leaders in offshore wind energy, we are promoting new uses of this technology in countries like Spain, where the most viable technology, due to the characteristics of its coasts, is floating offshore wind energy.
How does floating wind power work?
Floating wind farms transform energy from ocean winds into reliable, renewable electricity, thus providing clean energy to homes and businesses. This technology has the potential to bring offshore wind power to new markets where in the past the depth of the water made turbines fixed to the seabed impossible. Spain is one of the countries, along with others, such as the United Kingdom, in which floating technology would allow us to access areas with an even greater wind resource and where the risks of impact on other ocean users are lower.
Repsol and Ørsted join forces to develop floating offshore wind power in Spain
In this sense, Ørsted has partnered with the Spanish energy company Repsol to join forces and explore the opportunities of floating offshore wind in Spain, reaffirming our commitment to promote the commercialization of this technology.
The installation of wind turbines on floating platforms is the next step for offshore wind energy to reach its full potential in our country, since it allows us to greatly increase our reach beyond shallow waters, more suitable for fixed turbines in the sea ??bottom. Among the many opportunities of emerging floating wind power is its enormous potential, because we could harness up to 80% of the world's offshore wind resources by installing turbines in much deeper water, with stronger and more constant winds. Overcoming this challenge will not be easy, but the reality is that we have done it before with offshore wind technology installed on the seabed, and we know that, with the right investment in new technologies, infrastructure and supply chain, we can return To do it. And we should. Three interrelated crises – the energy crisis, climate change and biodiversity loss – are driving the urgent need to develop new renewable energy solutions.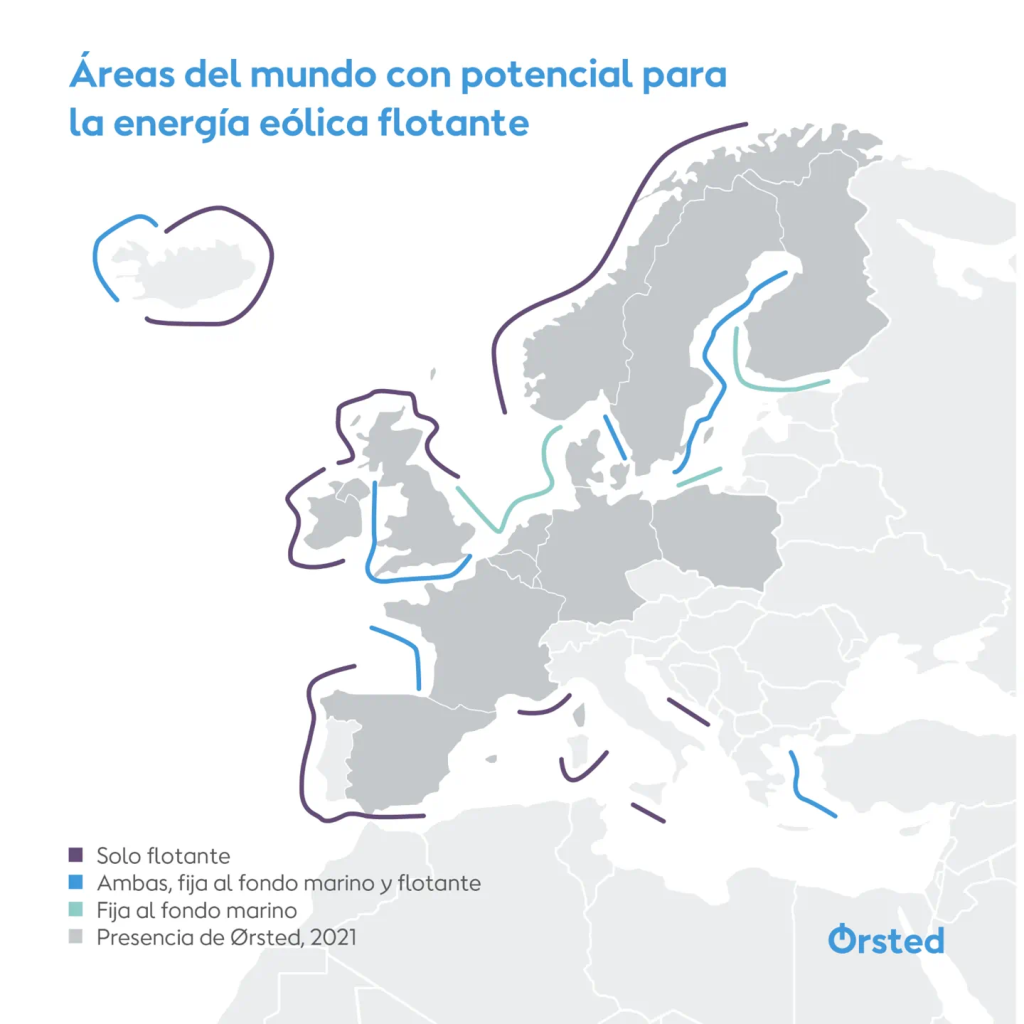 Offshore Wind Power Potential
So, for floating offshore wind to really work, it has to be established as a global industry. Fortunately, we are confident that we can harness the wealth of experience and talent not only from Ørsted, but also from the UK, to turn floating offshore wind into a large-scale global industry.