MMYPEM will perform maintenance works in the 50 MW Concentrated Solar Power Shagaya plant, a project where the company was the winning tender for the assembly of the solar field, BOP equipment and turbine.
Shagaya 50 MW concentrated solar power (CSP) plant in under the Phase One of 2GW Kuwait Shagaya Renewable Park. As Mr. Oliver Baudson, Managing Director of TSK-Flagsol Engineering talks to CSP Focus, "the CSP project is now under construction, and will be fully completed by the end of this year, when Kuwait will have the 1st commercial CSP plant operate."
This intervention will improve the functioning of the energy storage system. The ongoing maintenance is expected to last several months.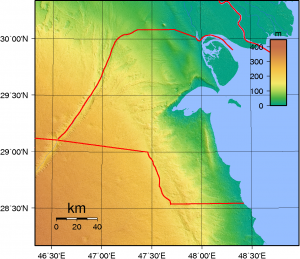 Developed by the Kuwait Institute for Scientific Research, the Shagaya 50 MW CSP plant is part of the First Phase of 2GW Shagaya Renewable Park located in the town of Al Yahra (Kuwait) and has been in full operation since February 2019.
In 2030 Shagaya Renewable Park complex will have a capacity of 2,000 MW installed renewable energy. Khaled al-Fadhel, Kuwaiti oil minister, described the Shagaya as a "pioneer" project in the country's ambition to provide 15 percent of its power needs from renewable sources.
Shagaya Renewable Energy Research Program will be comprised of 3 main facilities, a concentrated solar power plant and two facilities for wind and PV research. This complex will be developed in the north of Kuwait, near the Iraqi border and comprise a 10-megawatt (MW) photovoltaic solar plant, a 10-megawatt (MW) wind farm and a 50-megawatt (MW) concentrated solar power facility using trough technology.
The project's scope of work consist of a 50-megawatt (MW) concentrated solar power (CSP) using parabolic trough plant with thermal energy storage, located in the western part of Kuwait. The concentrated solar power facility, it will by dry-cooled and will have a large capacity two tanks molten salt thermal energy storage. Backup fossil fuel may be implemented only for operational purposes, the fuel foreseen is light fuel oil which will be transported to the site via tankers. Water will be carried out to the plant by road tankers. The power block in the project includes:
Turbine Capacity (Gross): 50.0-megawatt (MW)
Turbine Capacity (Net): 50.0-megawatt (MW)
Output Type: Steam Rankine
The thermal storage in the project includes:
Storage Type: 2-tank indirect
Storage Capacity: 10 hours
Thermal Storage Description: Molten salt
BREAKING NEWS, NEWS, Sin categoría, Storage, Top News|Tags: Concentrated Solar Power, CSP, Kuwait, TSK