The Nordex Group has received wind power orders from Nordic's largest wind farm developer, OX2, for four projects in Finland, with a total installed capacity of 107.4 MW. IKEA Retail Finland, part of INGKA Group, is funding the construction, with the intention to acquire the projects when they are operational in Q1 2020.
The projects include 25 of the new N149/4.0-4.5 turbines, specially designed to deliver higher yields at light and medium wind sites, which the manufacturer will install from summer 2019 for the wind farms "Långmossa" (seven turbines), "Ribäcken" (five turbines), "Ponsivuori" (seven turbines) and "Verhonkulma" (six turbines).
The four sites near Vaasa, Kurikka and Maalahti are characterised by average annual wind speeds between 6.9 and 7.2 m/s, perfect wind conditions for the N149/4.0-4.5, which can be configured between 4.0 and 4.5 MW depending on the site conditions and where the flexible operating modes can be optimised to maximise the over return on investment.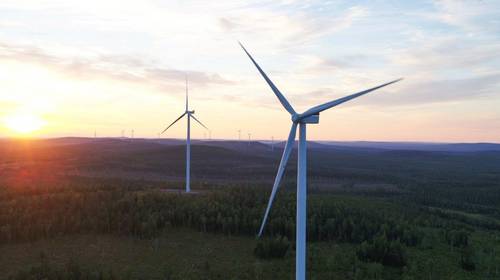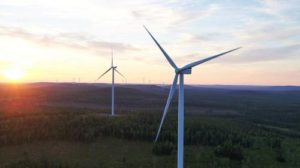 The turbines in Ponsivuori will also be equipped with an anti-icing system. The orders include a premium service and maintenance contract with a term of 25 years for each of the four projects.
With these new orders, OX2 and the Nordex Group are continuing their successful cooperation. Paul Stormoen, Managing Director OX2 Wind: "Finland is a market within which OX2 is steadily growing its wind farm portfolio. We are happy to repeat business with Nordex now. Thanks to our many years of experience, we are convinced that with the N149/4.0-4.5 we have once again chosen a highly efficient turbine type which can be flexibly configured for optimum yield under the respective conditions of the various locations."
"When developing the N149/4.0-4.5, we consistently focused on reducing electricity production costs along the entire value chain and optimized the maintenance and service concept accordingly. The resulting subsidy-free projects, including the long-term service contracts and the trust that OX2 have shown in us, confirm this strategy," commented Patxi Landa, Chief Sales Officer for Nordex SE, on the renewed project win in Finland.
This success follows closely behind the first major order for the N149/4.0-4.5 for the "Hedet" project, also in Finland and consisting of 18 turbines, which the Nordex Group announced at the beginning of October.
The Group has installed more than 23 GW of wind energy capacity in over 25 markets and in 2017 generated revenues of EUR 3.1 billion. The company currently has about 5,000 employees. The joint manufacturing capacity includes factories in Germany, Spain, Brazil, the United States and India. The product portfolio is focused on onshore turbines in the 1.5 to 4.8 MW class, which are tailor-made for the market requirements in countries with limited space and regions with limited grid capacity.