On 14-15 May 2018, WindEurope hosted the 4th edition of the 'Analysis of Operating Wind Farms' workshop focusing on how big data can be used to optimise the performance of wind farms worldwide.
The event – held in Vilnius, Lithuania – attracted over 180 wind energy experts from industry and academia. Delegates discussed new techniques and technologies to cut operational costs, boost performance and streamline maintenance of wind turbines.
A total of 25 presentations were delivered over the two-day event, with many of them using real data from existing wind farms across the globe (as opposed to academic modelling) to state their case.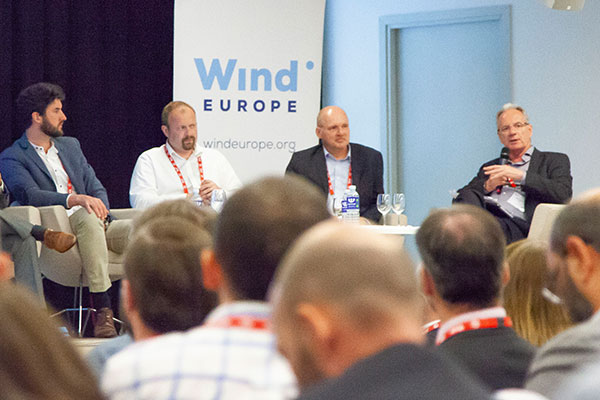 The presentations included how manufacturers use operational data; new methods to detect faults and failures; new performance modelling on using higher data frequency and benchmarking techniques; advanced methods and tools to identify the cause and nature of production losses; life-cycle approaches to wind farm operations and de-commissioning; and looking at the future of operations with innovative technologies such as smart sensors, drones and storage systems.
In the opening session, attendees were welcomed by Aistis Radavi?ius, CEO of the Lithuanian wind energy association. Radavi?ius said: "I am very happy with the partnership that we`ve developed with WindEurope in recent years. Lithuania is already in the top ten European countries according to wind energy penetration rate. Not only we want to stay there, but we aim at tripling the production of onshore wind by 2030, covering up to 40% our electricity demand."
Participants had opportunities to network during the extended breaks and lunches and were invited to the workshop dinner at the Vaidilos Theatre. The dinner featured a speech from Žygimantas Vai?i?nas, Minister of Energy of the Republic of Lithuania, who was introduced by Giles Dickson, CEO of WindEurope. The Minister said that wind energy is a major renewable energy source for electricity generation in Lithuania: "In 2016, the country was first in Europe in terms of the penetration of new wind energy capacity. In the medium to longer term perspective, Lithuania is going to develop offshore wind in the Baltic Sea. And in 2019 an auction for 250 MW wind capacity will be launched to achieve the renewable energy targets".