The wind industry is powering forward to continue growth into 2018 and beyond. Pretty soon, plenty of wind professionals will flock to Chicago (Illinois, US) to plan for the future and keep this success story growing. Will you be attending? If so, we would like to invite you to connect with our team, who will be available at the event for meetings and discussions.
Do you want to find out how we can support your company goals? Are you interested in optimizing the LCoE of your wind turbine? 
Be sure to stop by our booth #2440 and let us tell you how we can do this:
Experience: Since 1995, we have commissioned over 25,000 wind power converters, accounting for more than 41 GW of installed wind power capacity worldwide and an 8% market share. The company is the world's number one independent supplier of wind power converters and a leading O&M services provider with more than 8.6 GW maintained in the world.
R&D: We are committed to innovation and development of full in-house technology. In 2017, 5% of net sales was invested in R&D, the backbone of our business activity.
Flexibility: We can meet your project needs through flexibility in designs and R&D solutions, operations, different business models or additional value-added services.
Global presence: We have manufacturing facilities in Europe, Asia, North and South America, and sales and service centers strategically located all over the world to deliver the most efficient support and service to you.
Partnership: We are partners, providing you active support for each specific project throughout the entire product life cycle.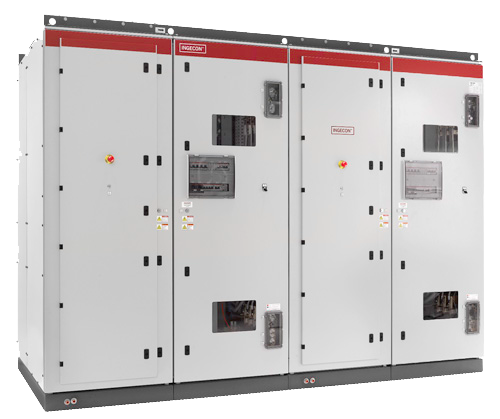 Low and medium voltage
wind power converters
, optimized for DFIG and FC topologies. Power converters specifically designed to fulfill the strictest grid codes. Air cooled, air/water cooled and full water cooled solutions for harsh environments. Up to 15 MW.
As AWEA WINDPOWER 2018 is fast approaching and our meeting schedules are quickly filling up, please send in your meeting requests at your earliest convenience by filling out the form on your right or by contacting us at wind.energy@ingeteam.com.
We invite you to visit us at Booth 2440! We would be delighted if you could join us.