As one of the UK's renewable energy chiefs has pointed out, electric cars won't tackle climate change if they run off fossil fuels. Matthew Wright, managing director of Dong Energy UK, said that although plug-in cars could cut local air pollution, it would be a "pyrrhic victory" if they increased greenhouse gases from coal and gas power stations.
"The fit between renewable energy and electric is a natural [one]," he argued. E.ON, one of the big-six energy suppliers, agrees: its dedicated new electric car tariff is supplied with 100% renewable power.
Put simply, the greener the electricity mix, the greener your electric car. Today, around half of power generated in the UK comes from low-carbon sources. Here's how that breaks down, and how it might look in the future.
Wind
Nearly a third of the UK's electricity between April and June was generated from renewable sources – a new record, and up a quarter on the same period last year. The milestone was driven in large part by the growing number of windfarms on land and around the UK's coast. It also helped that wind speeds were relatively high and overall electricity generation was lower than normal.
The records have continued into autumn. Last Sunday night was the perfect time to plug in a car, as the carbon emissions from power generation were at their lowest level ever, because of windfarms.
Offshore windfarms have been making headlines as well as power, securing record low levels of state support in a government auction last month. Three major offshore farms will be built in the early 2020s for a subsidy price well below nuclear, and half what the technology cost just a few years ago.
The UK has more offshore wind power capacity than any other country in the world, and is helping set records in Europe too. Last Monday, Europe generated a new high of 263 gigawatt hours of power from offshore turbines, 95GWh of which came from the UK.
Some industry-watchers think that offshore windfarms, where larger and more efficient turbines are driving costs down fast, could become so cheap that they eventually outcompete their onshore counterparts in Britain, too. But for now, those on land still provide 50% more power than those at sea.
Solar
The number of solar panels in the UK grew at a dizzying rate between 2011 and 2016, and now provide a significant source of power in the middle of the day.
Solar is a large reason the national grid went without coal power for 24 hours in April, the first time the UK had done without the dirty fuel for a day since the industrial revolution. For one brief period on a Friday in May, solar even eclipsed the UK's eight nuclear power stations for electricity generation.
However, the outlook for the next five years is cloudier. Experts forecast the amount of solar installed will be a fifth of the capacity fitted in the past five years.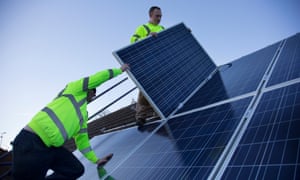 Nuclear power stations usually provide between a fifth and a quarter of the UK's power, taking a 23.6% share during April and June. EDF, which is building Britain's first new nuclear station in decades at Hinkley Point in Somerset, thinks that by 2035, nuclear's share should grow to around a third of UK power supply.
In the French state-owned firm's vision of the future, another third will come from renewables and the last third from gas. Together, EDF sees the three as the best way of achieving reliable, affordable and low-carbon power.
But seven of the UK's eight existing nuclear power stations, which began generating electricity in the 1970s and 1980s, are expected to come off the grid late next decade. That means for atomic power to supply a third of the UK's needs, Hinkley Point C will need to be finished on time, and three more plants of a similar size will need to be built.
One of those could be by EDF itself, at Sizewell in Suffolk, if it can build the reactors for a subsidy price low enough that the government would agree it.
EDF is also supporting a Chinese nuclear company, CGN, which is at the start of a four-year process to get regulatory approval for a plant at Bradwell, in Essex. Other international consortia are hoping to build a plant at Wylfa in Wales and Moorside in Cumbria.
Biomass
Although environmentalists dispute the idea that wood-burning is green at all, it is still officially considered low-carbon by the UK and EU. The UK's biggest power station, Drax in North Yorkshire, has already converted three of its six units from coal to biomass, and is exploring switching a fourth.
Later this year, an old coal power plant at Lynemouth in Northumberland is also slated to reopen as a biomass power station.
Since you're here …
… we have a small favour to ask. More people are reading the Guardian than ever but advertising revenues across the media are falling fast. And unlike many news organisations, we haven't put up a paywall – we want to keep our journalism as open as we can. So you can see why we need to ask for your help. The Guardian's independent, investigative journalism takes a lot of time, money and hard work to produce. But we do it because we believe our perspective matters – because it might well be your perspective, too.
theguardian.com