WindEurope is in Tallinn today to take part in a conference on 'Europe's Future Electricity Markets' organised by the Estonian Presidency of the EU Council. EU Energy Ministers are gathering in Estonia's capital to discuss the Clean Energy Package, making this event an excellent opportunity to network with senior officials.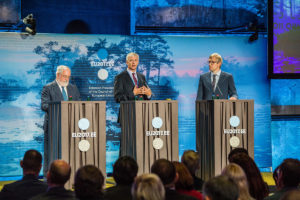 The event comes at a crucial moment for the reform of electricity market rules. No less than 2,800 amendments have been tabled on the legislative proposals for electricity market reform by members of the European Parliament. They will now have to turn these into compromise amendments, which will require intense negotiations between the different political groups. EU Energy Ministers will try to reach a consensus tomorrow on the role of regulated prices and capacity mechanisms. Commissioner Miguel Arias Cañete and the European Parliament's Rapporteur Krišj?nis Kari?š sent them a clear political message by calling for a subsidies-free market environment in which consumers can benefit from fully dynamic prices in the long-run.
Delegates in Tallinn also discuss how the digitalisation of the energy sector can be accelerated. In this context, WindEurope supported the E-energy Tallin declaration. This document, signed by governments and industry associations, calls for a further digitalisation of the energy market. This should help to enhance cooperation between the public sector and companies to make sure consumers can find the best prices and service providers via smart digital solutions. Better data management should also support the creation of inclusive flexibility markets.
The E-energy declaration calls for Digital Energy Strategies that accelerate the uptake of innovative digital solutions in the energy sector. WindEurope highlighted that future European R&D&I programmes need to incentivise the development of digital solutions which support the integration of wind systems with other sectors. WindEurope will be in close contact with policymakers to follow up on this in the coming months.