WindEurope CEO Giles Dickson addressed the annual Turkish Wind Energy Congress in Ankara on 2 November.
He applauded the clear commitment from the Turkish Government to expand wind capacity from 5.3GW today to 20GW by 2023. The Government is putting in place clear tools and measures to deliver these goals. Dickson compared the targets to the faltering level of ambition in the EU where only 7 out of 28 have clear goals and policies in place for renewables beyond 2020. "If only more countries in the EU had the same level of ambition," he said.
The 20GW target appears credible with the introduction of new measures and the current pipeline of projects. In addition to the existing capacity, another 5GW has been licensed. Of this, 3GW is in the permitting stage and should be operational by 2018. The remaining 2GW already has grid connection. The full 5GW will be supported under the existing feed-in-tariff scheme.
A further 1.5GW of new capacity will be announced shortly. This will be supported under a new auction-styled support scheme and fully grid-connected by 2020 or shortly afterwards. An additional 8GW would then need to be auctioned to meet the 2023 target. Any plans for new capacity would also receive support under the new auction scheme.
The auctions will involve developers bidding to deliver projects at a fixed price for 15 years. It will be an open process with developers bidding below the current feed-in-tariff of $7.3cents/KWh.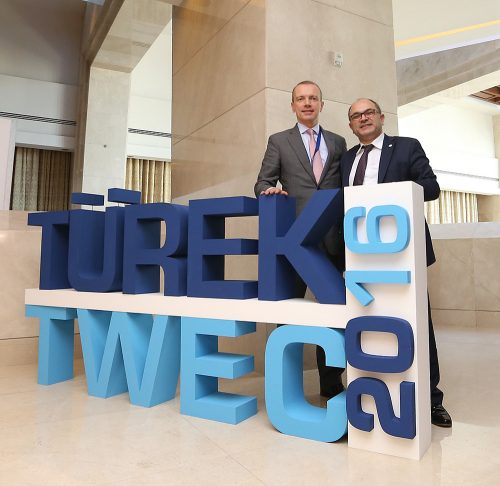 Ziya Altunyaldiz, Chairman of the Energy Committee of the Turkish Parliament, told the Turkish Wind Energy Congress that Turkey "will" meet its target of having 20GW wind capacity by 2023. He added that the expansion of wind power was essential for sustaining economic growth. It also met Turkey's two other policy priorities of (a) using local resources to boost energy security and (b) developing wind energy industrial capacity with a local supply chain and Turkish know-how that can be exported to other countries in the region.
Turkey also faces a challenge in removing bottlenecks in grid capacity. Infrastructure upgrades will be necessary as the country aims to meet its wind energy deployment targets.