Brazil is ranked 10th globally in terms of installed wind capacity. During 2015, it installed 2.75 GW – a record for Brazil – bringing the total to 8.72 GW, which accounts for 6.3% of the Brazilian energy matrix. More than R$ 16 billion have been invested, 41,000 jobs created, more than 5 million homes were supplied with electricity from wind power, and 5 million tons of CO2 emissions were avoided.
Wind power was the fastest growing energy source in 2015, installing 46% more than in 2014. Projections for 2016 are to contract between 2-3 GW of wind power in the regulated energy auctions, and the installation of about 3 GW in wind farms (totalling over R$ 20 billion in investment).
Steve Sawyer will provide a short overview of the development of the global wind market and what lays ahead in the coming years.
Elbia Gannoum, CEO of the Brazilian Wind Energy Association, ABEEolica, will provide an overview of the status of the market and will talk about what challenges lay ahead for the Brazilian wind sector.
What you'll hear about:
The growth trends over the past few years
Projections for wind in the coming years
The financing landscape
The upcoming auctions in 2016
Challenges facing the industry
Steve Sawyer, Secretary-General of GWEC, has worked in the energy and environment field since 1978, with a particular focus on climate change and renewable energy since 1988. He spent many years working for Greenpeace International, representing the organization at intergovernmental and industry fora primarily on energy and climate issues. At GWEC he is focused on working with intergovernmental organisations such as the UNFCCC, IPCC, IRENA, IEA, IFC and ADB to ensure that wind power takes its rightful place in the energy options for the future; and with opening up new markets for the industry worldwide.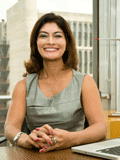 CEO at Brazilian Wind Energy Association ABEEólica, Élbia Silva Gannoum is specialized in Regulation and Electricity Markets and has been working in energy sector for more than 15 years. She has been the Executive President of ABEEÓLICA since September 2011. She started her career as Advisor at ANEEL (2000), and worked in the Ministry of Finance (2001-2002), Ministry of Mines and Energy (2003-2006). In 2014 she was elected by Recharge's Renewable Thought Leaders Club, as one of the most influential professionals in the global scenario of renewable energy.
The presentations will be followed by Q&As with Elbia Gannoum & Steve Sawyer.