Gov. Pat McCrory, Policymakers Visit Amazon Wind Farm US East, Powered by Iberdrola Renewables at Desert Wind.
For the first time, wind power is lifting off in North Carolina. Gov. Pat McCrory joined business and community leaders in Elizabeth City today to break ground on North Carolina's first industrial-scale wind power project. Spanning farm fields in Pasquotank and Perquimans counties, the Amazon Wind Farm US East, powered by Iberdrola Renewables at Desert Wind, would be the first utility-scale wind farm in North Carolina and one of the first in the southeastern United States.
The proposed facility, if fully built out, could deploy 150 wind turbines that would generate 300 megawatts (MW) of power at full capacity and provide millions of dollars in tax and landowner revenue for decades. The first phase, a 208 MW project, will feature 104 wind turbines. "The Amazon Wind Farm takes a significant step toward diversifying North Carolina's energy resources," said Governor McCrory. "Bringing onshore wind production to North Carolina is part of my 'all of the above' energy strategy. By diversifying our energy resources, we can provide affordable, reliable, and secure sources of energy that are environmentally clean and safe."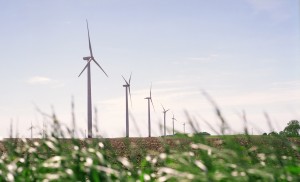 "Breaking ground on North Carolina's first wind farm is a perfect demonstration that getting to a competitive, clean energy future takes a team effort," said Frank Burkhartsmeyer, Iberdrola Renewables' U.S. Chief Executive Officer. "A wind farm of this scale and complexity wouldn't be possible without Gov. McCrory's leadership, community support, and an exciting collaboration with Amazon Web Services."
Rising among the corn, soybean and wheat fields near Elizabeth City and Hertford, the project is expected to generate a windfall for the local community. The total of landowner payments and taxes for the first phase of the project will inject more than $1.1 million into the local economy each year. About 250 construction jobs will support the 18-month building period, and 10 permanent jobs will be based at the wind farm when it is in full operation, anticipated for the fourth quarter of 2016.
"This project will deliver substantial and long-term local economic benefits," said Wayne Harris, economic developer for the Elizabeth City and Pasquotank County Economic Development Commission. "Not only will it be the first wind farm in the state, it will be the largest taxpayer in each of the counties where it gets built and puts money into the pockets of local working families."
Iberdrola Renewables, LLC is a subsidiary of Iberdrola USA and the U.S. renewable energy division of parent company IBERDROLA, S.A., an energy pioneer with the largest renewable asset base of any company in the world. Iberdrola Renewables, LLC is headquartered in Portland, Ore., and has more than $10 billion of operating assets totaling more than 6,000 MW of owned and controlled wind and solar generation in the U.S.