In 2013, the total capacity of renewable energy worldwide was 1,560 gigawatts (GW) of which hydropower accounted for approximately 1,000 GW.
However, the annual increase in hydropower over the preceding year was 4% while that for other renewables (primarily wind energy and solar energy) was nearly 17%.
Even though wind energy is currently far more prevalent than solar energy, there are numerous reasons to be confident that solar energy will grow at a significantly faster rate than wind power in the years to come.
This article serves as an initial overview of the trends in the global solar power market. In the coming month, we will publish articles on the various elements of developing solar projects, including PPAs and feed-in-tariffs, construction and O&M considerations, regulatory considerations and financing structures.
Other than hydropower, wind technology has been the mainstay of the renewable energy industry for the last few decades. The investments in this sector have been considerable in both Europe and North America, demonstrated by the fact that wind energy provided a third of Denmark's and a fifth of Spain's energy supplies in 2013. In the United States, investment in wind energy, being the most viable of the renewable technologies, has been driven by the various government subsidies – including tax credits, grants and federal loan guaranties – in place since the early 1990s.
However, wind energy seems to be running into its current technological limits – recently, there have been few gains in terms of siting or in the design of blades and bearings. Moreover, wind turbines are generally thought to be noisy, unattractive and dangerous to birds.
Solar power, on the other hand, has seen tremendous innovation in the last decade. This has taken two forms. The first (and accounting for about one-tenth of the existing solar energy capacity) has been thermal storage whereby sunlight is concentrated as heat and then can be used for producing steam to power turbines. The second, and more widespread, form of solar energy is electricity produced by photovoltaic (PV) cells. The IEA recently noted that the cost of solar panels has decreased by a factor of five in the past six years. The cost is further expected to halve in the next 20 years making solar a viable long term option as countries explore various avenues to reduce dependence on fossil-fuel-based energy.
Countries with considerable fossil-fuel (specifically petroleum) resources have an incentive to explore alternate energy sources in an effort to preserve their reserves for export and other value added products. Economies importing fossil fuels to meet energy requirements are incentivised to explore other options in an effort to be less susceptible to the vagaries of the global oil market (as demonstrated by the massive price swings since 2007).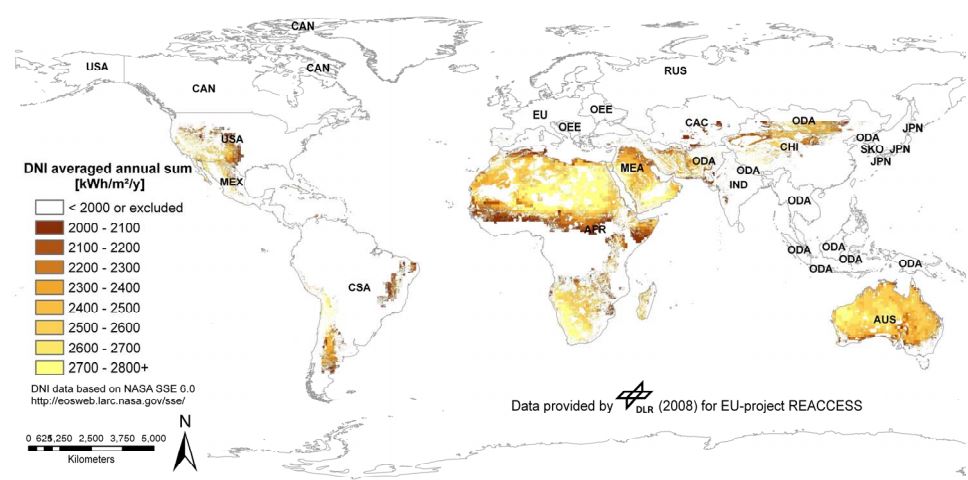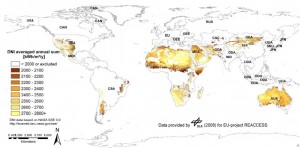 Europe, North America and China 
Considerable investment in solar energy is expected to occur in Europe and North America in the coming years; however, other regions and countries are likely to be just as active, if not more so, in terms of their solar investments. China, for instance, invested more than US$ 56 billion in renewable energy in 2013 alone (more than all of Europe and more than it invested in fossil-fuel and nuclear capacity combined), including 13 GW of solar energy.
UAE 
The UAE has positioned itself at the forefront of the growth of solar energy in the region. The Emirate of Abu Dhabi established the Abu Dhabi Future Energy Company (Masdar) in 2006 with a mandate to reduce the emirate's dependence on oil. Since its inception, Masdar has made considerable investments in renewable energy initiatives including the Shams 1 project, a 100 megawatt (MW) concentrated solar energy project development in conjunction with Abengoa Solar and Total. Abu Dhabi is also home to the International Renewable Energy Agency (Irena).
Dubai has also made significant strides in the development of solar power and is in the process of developing a 1,000 MW solar park of which the first phase (of 13 MW) was commissioned in October 2014. A further 200 MW was awarded in early 2015 in what was the lowest ever bid price for a solar project (5.84 cents/kWh), which was bid by the winning consortium comprising ACWA Power of Saudi Arabia and Spain's TSK. This pricing is, in part, indicative of the technological advances in the PV industry. By 2030, Dubai hopes that 15% of its energy will be produced from renewable sources.
The Dubai Electricity & Water Authority (DEWA) recently announced a rooftop solar net metering program as part of its "Shams Dubai" initiative and further development of the regulatory framework in the UAE can also be expected in the near future.
Saudi Arabia 
Saudi Arabia launched the King Abdullah City for Atomic and Renewable Energy (KA-CARE) in April 2010 with the mandate of contributing to development of the renewable energy industry. KA-CARE had the target of procuring 24 GW of renewable energy by 2024. However, the programme stalled before the procurement process commenced and in March 2015, the government gave the responsibility of developing renewable energy to the Saudi Electricity Company (SEC). While no new targets have been officially publicised, there are some indications that the program will initially be of a smaller scale, aiming for projects with a total capacity of 500 MW in the medium term.
The market will be closely watching SEC and the Electricity & Cogeneration Regulatory Authority (ECRA) in the coming months to see how the solar sector will be regulated, how projects will be procured and the framework for any feed-in tariff.
It is instructive to note that Reuters estimates that it costs Saudi Arabia approximately US$ 5/barrel (inclusive of capital expenditures) to extract oil and so using it for the production of electricity domestically displaces oil from other, more value added, uses. This opportunity cost coupled with the vast solar energy potential in Saudi Arabia and the government's drive to diversify the energy mix away from dependence on oil, means Saudi Arabia certainly can be expected to develop its solar energy sector aggressively in the coming years.
Jordan 
Jordan has been actively involved in the development of solar energy in recent years to reduce its dependence on imported sources of energy (it currently imports 97% of the energy it consumes). Increase in solar power is a significant part of its strategy and it hopes to connect about 1.65 GW of renewable energy projects to the grid by 2020.
Jordan was the first country in the region to introduce net-metering regulations in 2012 allowing PV owners to sell solar power at a rate of approximately US$ 0.18/kWh and has recently announced plans to install PV systems on the rooftops of each of the 6,000 mosques in the country.
On a larger scale, a consortium led by the European Banks for Reconstruction and Development (EBRD) committed to provide financing of US$ 100 million for the construction of three solar project totalling 40 MW of capacity. This investment comes after the EBRD also agreed to provide financing for a 20 MW project in September 2014.
Egypt 
Egypt's geographic location makes solar energy very attractive; however, at the end of 2013, it had only 20 MW of installed solar energy capacity. The government hopes that renewable energy will contribute 20% to the energy mix by 2020.
In recent weeks, the Egyptian Electricity Holding Company (EECH) has entered into a memorandum of understanding with Saudi based ACWA Power and Masdar to explore the growth of renewable energy in the country – 500 MW worth of solar projects are meant to be evaluated in this regard.
Egypt has also created several incentives to encourage investments in the solar energy sector. The most notable of these are (i) government backed 20-25 year power purchase agreements; (ii) a payment of the portion of the price to be based US Dollars (even though the payment would be made in Egyptian Pounds at the prevailing exchange rate) to alleviate currency risk; and (iii) allowing the use of state owned land in exchange for 2% of the energy produced by the project.
A feed-in tariff regime has also been established (the rates for household and commercial users will be different) and projects with capacity ranging from 500 kW and 50 MW will be eligible to participate.
Rest of Africa 
Morocco has shown strong growth in solar energy and is targeting 2 GW of solar energy by 2020 and Algeria hopes to have 2.5 GW of renewable energy by 2030. Multilateral agencies have also shown strong interest in the sector, specifically in Africa, with the International Finance Corporation (IFC) announcing the creation of an initiative aimed to develop solar projects. This initiative, expected to be launched later in 2015, will also benefit from World Bank guarantees in respect of delays in connecting with the power grid of the host country as well as political risk.