The world added 1.4 gW of installed offshore wind power capacity in 2010, up 110 percent year-on-year and accounting for 3.7 percent of the world's total installed energy capacity.
According to the International Energy Agency, wind energy will make the largest contribution to global renewable power by 2017, with China leading offshore wind power growth.
China's Fujian province, with some of the richest offshore wind power resources in the country, has been a hotspot for domestic wind turbine makers. State-owned firms such as Datang Group, China Huadian Corporation and China Longyuan Power, as well as province-level companies like Fujian Investment and Development Group and Fujian Energy Group, have launched onshore or offshore wind power projects in the area.
According to its national plan, China's installed capacity is expected to reach 5 gigawatts between 2011 and 2015 and jump to 30 gW by 2020.
The Chinese government has listed Fujian as a key province for offshore wind power development. Fujian has inherent advantages thanks to winds brought by frequent tropical storms along its coastal areas.
The high, consistent average wind speed in Minjiang estuary, a locale in the province, makes it an ideal location for harnessing wind resources. Fujian province is also the location of China's first 5-megawatt direct drive permanent-magnet generator wind turbine. Once the entire project is complete and connected to the grid, it will be able to generate approximately 15 gW of power annually. Insiders believe this is just the beginning of a major boom in the wind power sector across the province.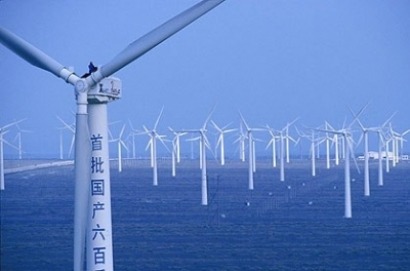 The 5-mW generator was developed by XEMC Windpower and Zhongmin (Fuqing) Wind Power, which installed prototypes off the shores of the Netherlands in 2011. According to its developers, the generator is simpler, more reliable and more convenient in terms of installation and maintenance. Li Xiangyang, general manager of Zhongmin (Fuqing) Wind Power, said they "selected XEMC because of their state-of-the-art core manufacturing technologies."
Advanced wind turbine technologies bring significant economic benefits. The 24 2-mW units utilized in the Zhongmin (Fuqing) Wind Power's Jiaru project generated more than 130 million kW of power in 2010 and 150 million kW in 2011.
XEMC has installed 239 such units in Fujian province to date, with 12 wind power plants in operation or under construction. To further consolidate and expand its presence in the province, XEMC has joined hands with Datang Group to construct a turbine manufacturing plant in the area.
Europe remains the offshore wind power powerhouse, with Britain, Denmark, Holland and Sweden the industry leaders.
Although China is a relative newcomer to the market, the country boasts a number of advantages. China's offshore wind power resources are estimated to be 750 gW, three times higher than onshore sources. China expects development across the sector to accelerate over the next five years.