One of the first blade-by-train transports in Europe, consisting of nine blades for Vestas' V112-3.0 MW turbine, went from Vestas' blade-factory in Lauchhammer, Germany, to the port of Esbjerg, Denmark, Friday 7 September.
The train of cars had a total length of almost 700 meters, underlining the sheer size of this massive logistic challenge.
Vestas, the world's leading wind turbine manufacturer, once again takes an innovative approach to constantly lowering the cost of energy while at the same time reducing impact on the environment. Together with global logistics provider SNCF Geodis, Vestas has pioneered Europe's first system for transporting 55 meter long wind turbine blades on railway.
The advantages of transporting still bigger blades by railway are numerous:
Railway-transportation provides a cost-effective and environmental-friendly alternative to trucks.
It takes one locomotive 20 hours to transport nine 55 meter blades from Lauchhammer to Esbjerg. By road, it would take nine trucks and 18 pilot cars 36 hours to cover the same distance.
In Europe, railway transportation of blades is still in its early phases, but Vestas expect to reduce cost by 10 to 15 per cent compared to transport by road.
Likewise, the decrease in CO2-emissions is substantial: in this particular case, the main part of the route from Lauchhammer to Esbjerg is carried out on electrified railway. Altogether, transport by rail only emits around one third of CO2 compared to transport by road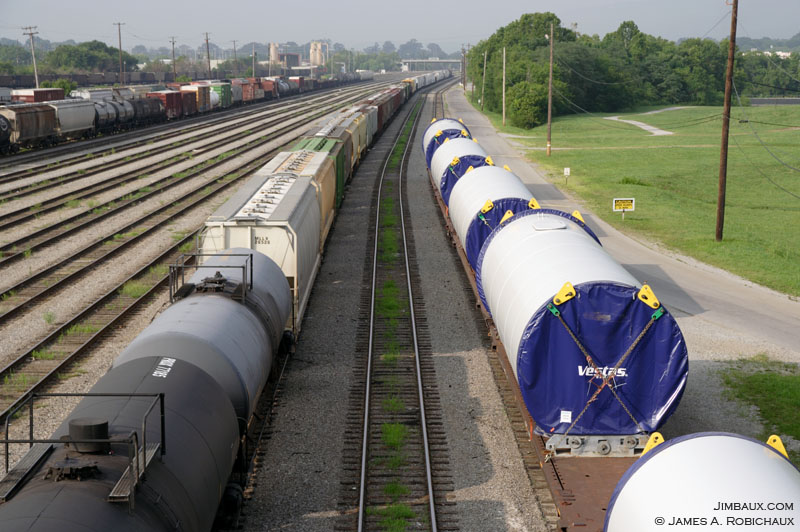 "The transportation of blades by rail is a breakthrough in terms of cost-savings, decreased environmental impact as well as increased flexibility. It has been a challenge to develop a viable concept for transporting blades of this size by rail in Europe, but well worth the effort. I'm confident we can expand the concept to other parts of the world where we are currently not using the railways," says Mette Heileskov Bülow, Transportation Chief Specialist at Vestas.
Going forward, SNCF Geodis and Vestas plan to design rail connections between other Vestas' facilities in Europe.
Henrik Funk, Global Director Wind Energy Projects at SNCF Geodis, says: "This new transportation concept shows the beneficial strategic fit between Geodis and Vestas. Both our companies are role models for creating sustainable solutions in our respective industries."
Every single day, Vestas wind turbines deliver clean energy that supports the global fight against climate change. Wind power from Vestas' more than 47,000 wind turbines currently reduces carbon emissions by approximately 55 million tons of CO2 every year, while at the same time building energy security and independence.
Today, Vestas has delivered wind energy in more than 70 countries, providing jobs for over 20,000 passionate people at our service and project sites, research facilities, factories and offices all over the world. With 65 per cent more megawatts installed than our closest competitor and more than 51 GW of cumulative installed capacity worldwide, Vestas is the world leader in wind energy.
SNCF Geodis, the Transports and Logistics Division of SNCF Group, provides end-to-end flow management solutions for its customers in Europe and worldwide. With its global multimodal network covering 120 countries and a workforce of 47.700 people, SNCF Geodis is the fourth largest transport and logistics operator in Europe, with revenue of EUR 9.4 billion in 2011.
Vestas and SNCF Geodis are pioneering the transportation of massive wind turbine blades by railway. Transporting up to nine 55 meter long blades at a time by train reduces cost, time and CO2-emissions as well as freeing up space on congested European roads.