China's push for clean energy is testing the limits of high-altitude wind turbines in the same mountain range as Mount Everest, up where the air is rather thin.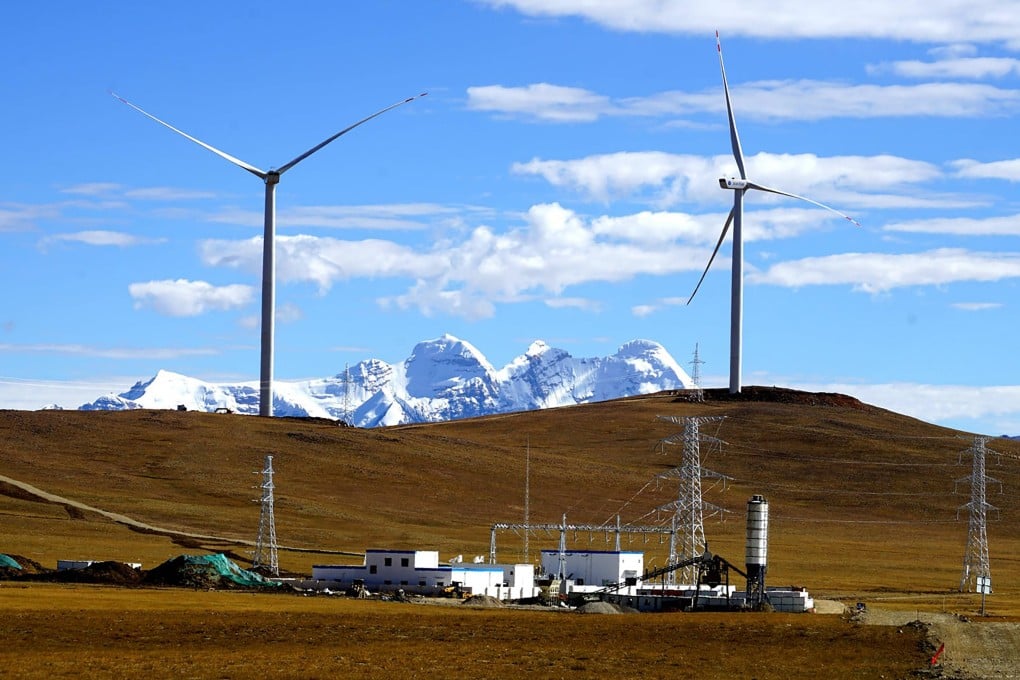 China has expanded its highest-altitude wind farm, in the Tibet autonomous region, thousands of metres above sea level. Photo: China Three Gorges Corporation
In the Tibet autonomous region, phase two of the Zhegu Wind Farm, in the northern foothills of the Himalayas, was put into operation in Comai county on Wednesday, when 15 newly installed wind turbines were connected to local power grids.
The project, funded by the state-owned Three Gorges Corporation, is hailed as China's highest-altitude wind farm, with parts up to 5,200 metres (17,000 feet) above sea level.
The 15 new turbines, with single-unit capacities of up to 3.6 megawatts (MW) – a record for high-altitude wind farms in China – are expected to generate 200 million kilowatt-hours of clean electricity a year. That's equivalent to the annual power consumption of 140,000 local households, or more than 10 per cent of all Tibet families, according to a statement by Three Gorges on WeChat.
"[The wind farm] is expected to drive local economic and social development, improve local energy structure, and promote tourism to Zhegu Lake, which will have a positive effect on the country's rural revitalisation," China's State-owned Assets Supervision and Administration Commission said in 2021 upon completion of the project's first phase.
China, the world's largest renewable-energy producer, was generating 36.2 per cent of its electricity from non-fossil fuel as of 2022, according to an electric-power report by the China Electricity Council in July. In total, 8.8 per cent of China's electricity comes from wind.
The nation's installed wind power capacity reached 365 gigawatts (GW) last year, accounting for 40 per cent of the global total and leading the world for 13 straight years.
"We are dispelling the misconception that it is inefficient to develop wind farms on a plateau," Wang Liang, one of the local project overseers, was quoted as saying by state broadcaster CCTV.
Thus, to increase single-unit power generation, the newly installed turbines have a rotor diameter of 160 metres, or about 20 metres longer than comparable units in other regions. This increases the circumference of the rotating blades by nearly 30 per cent.
To function efficiently in the extreme environment, all wind turbines are equipped with elastic coatings, UV and lightning-protection modules, and thick cables, according to comments in state media by the project's technical director, Li Chunshan.
Chuqin (Angeline) Jiang joined the Post as a graduate trainee in 2023. She had previously covered local news in San Francisco. She holds two degrees in data journalism from Columbia Journalism School and the Communication University of China.