Global order intake for wind turbines hit new highs in the first half of 2023 with 69.5 gigawatts (GW) of activity, up 12% year-on-year, according to new Wood Mackenzie analysis.
Orders from outside of China, which saw more than 25 GW of order demand for a 47% year-on-year increase in the first half, were a big driver of this activity.
In North America orders reached 7.7 GW, more than quadrupling the total of 1.9 GW in the first half of 2022, with two overseas orders accounting for 49% of the total. China remains overwhelmingly the largest market, with 44 GW of activity in the first half, but demand has held steady year-over-year.
In total, global wind turbine orders accounted for $25.3 billion in the second quarter and $40.5 billion in the first half of 2023.
"We've seen strong demand out of China this year, which is really encouraging," said Luke Lewandowski, vice president of global renewables research at Wood Mackenzie: Supply chain challenges remain, but conditions have improved enough as to drive acquisition decisions. The momentum generated by the Reduced Inflation Act in the US has helped motivate order activity, although greater market clarity and certainty will drive even higher volume.
China's entry also remains incredibly impressive, even as activity held steady for the first half of the year. Demand in the global offshore market, particularly in the United States and Europe, has been one of the main drivers of this growth.
Order intake for offshore wind increased 26% year-over-year in the first half to a record 12GW of activity and 17% of all order capacity. On a quarterly basis, offshore order capacity increased 48% year-over-year, reaching a total of 9.1 GW, also setting a record.
Offshore wind developers like Ørsted and Siemens Gamesa are having a hard time lately, but Lewandowski also noted:
We saw several really big deals officially reach a final investment decision in the second quarter, including orders for 2,640 MW and 1,176 MW in North America, which helped drive record numbers and breathe some life into these markets.
The fact that these deals have come to fruition during a difficult time for OEM finances and amid the cancellation of several purchase agreements for large projects is both encouraging and significant.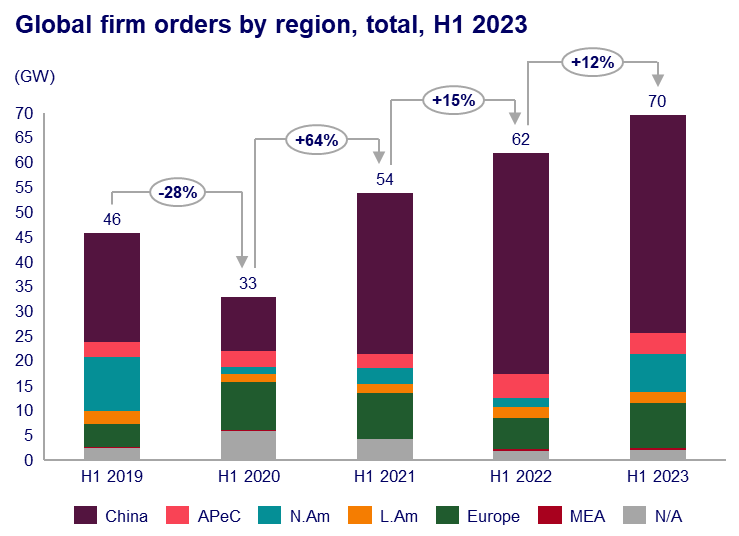 Despite its problems, the increase in offshore activity pushed the Spanish-German wind giant Siemens Gamesa Renewable Energy (SGRE) to the first place in capacity of new orders in both the onshore and offshore sectors (5.9 GW) in the second quarter, setting a quarterly record for offshore intake with its SG 14.X DD turbine.
China's Goldwind had the second highest amount of total order activity in the second quarter with 4.9 GW, followed by China's Windey with 4.4 GW.
For the first half, the overall order intake leaders were China's Envision at 9.7 GW, China's Windey 8.7 GW, and SGRE at 8.2 GW.