South Africa's energy generation shortfall issues have been well documented here on CleanTechnica and in other forums. This has led to unprecedented electricity rationing in the country, infamously known as electricity load-shedding. South Africa has an electricity generation capacity of about 50,000 MW, dominated by the national power utility company Eskom's coal power plants. A lot of these coal power plants are quite old now, and therefore plant breakdowns are quite common, and Eskom also has quite a large part of its fleet on planned maintenance and other activities to improve performance of some of these aging plants.
So, South Africa needs new generation capacity ASAP. While Eskom is working to bring up some of its plants' performance, as well as work towards new electricity generation plants, one quick way of adding some capacity to the mix is from independent power producers through large utility-scale solar and wind plants. South Africa started off well in this area over a decade ago with its Renewable Independent Power Producer Programme (REIPPP), which is aimed at bringing additional megawatts onto the country's electricity system through private sector investment in wind, biomass, and small hydro, among others. Since its inception, the REIPPP has successfully added 6,280.2 MW to South Africa's energy mix.
Eskom's recent system status update shows the following:
REIPPP Current Installed Capacity (MW):
Concentrated solar: 500 MW
Utility-scale solar PV: 2,286 MW
Wind (Eskom plus Independent Power Producers): 3,443 MW
Total, including other renewables: 6,280 MW
This is some pretty good progress. These numbers could have been even better had it not been for some delays in awarding some competitive bid rounds over the years. Another factor slowing this down is the lack of grid capacity in some provinces as the available grid capacity to accommodate new renewable power plants has been almost exhausted. South Africa therefore needs to work on expanding and upgrading its transmission and distribution network asap. This is something the government is urgently looking into, and I hope there will be some action asap.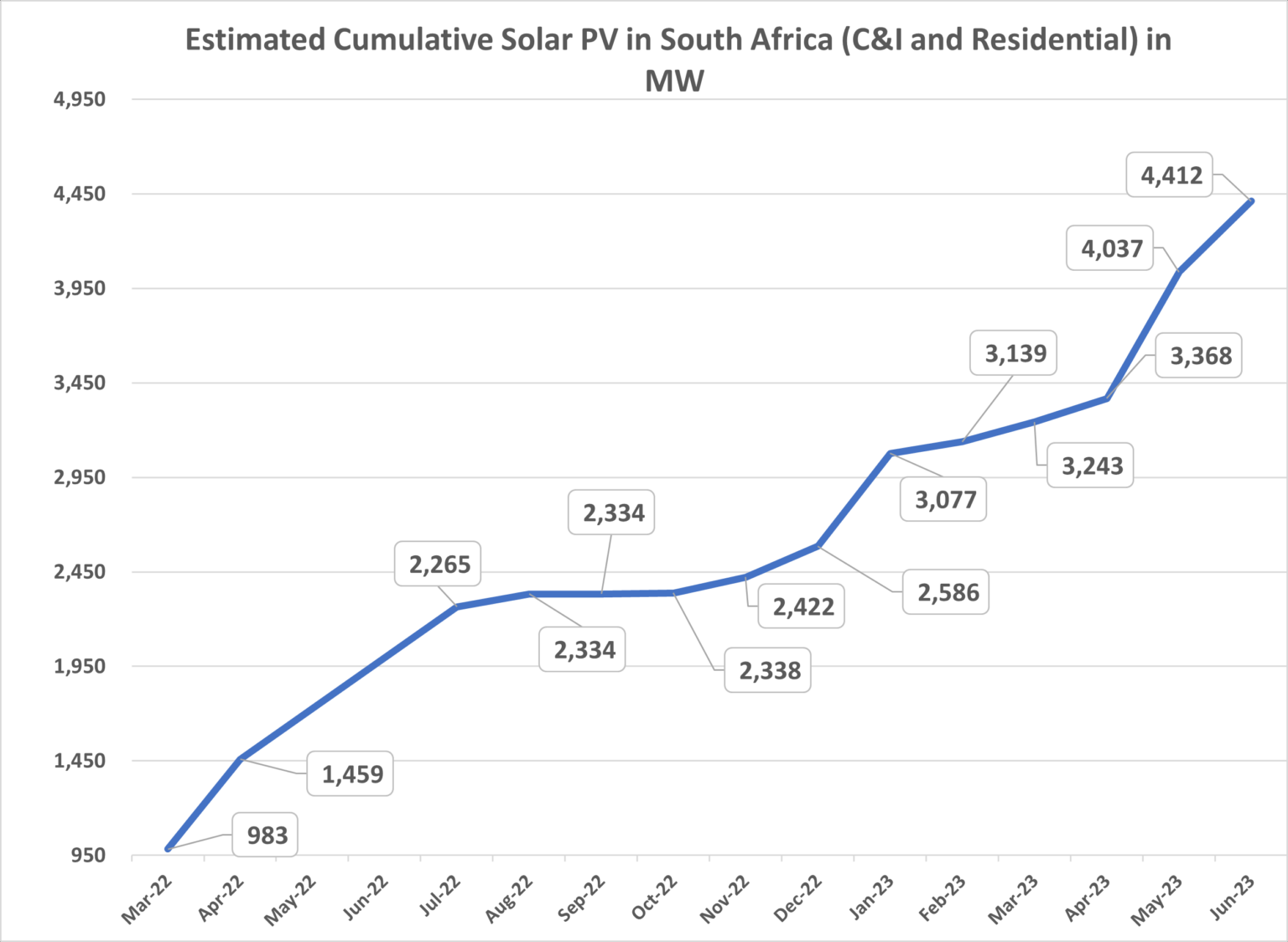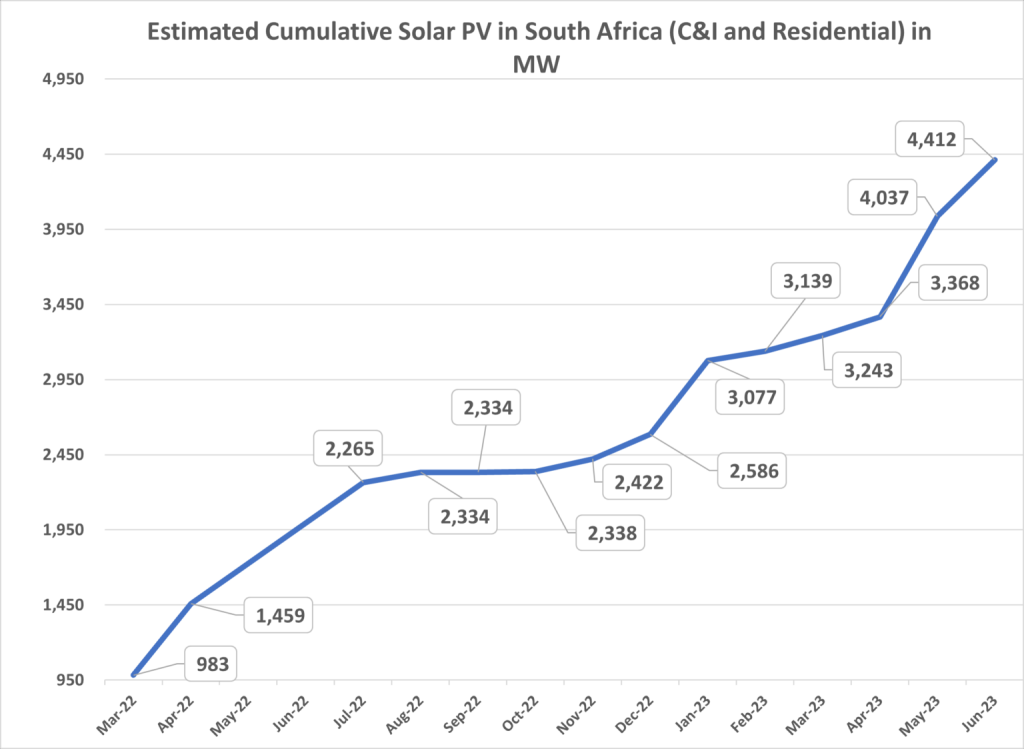 Another quick way to add some capacity is through tens of thousands of distributed solar PV plants on the roofs, carparks, and ground mounts of homes and businesses. We saw how quickly this can add some important capacity in Vietnam, and also how much rooftop solar has been added to over 3 million rooftops in Australia. Now we have some good news from South Africa, as Eskom reckons that there is now about 4,412 MW of solar PV installed in the South African C&I and residential sectors. That's 4.4 GW of awesome distributed solar!
Looking at the table above where Eskom deduced the current installed PV in the C&I and residential sectors, including large users such as in the mining and agricultural space, we can see that about 3,000 MW of this was added in just over a year from March 2022 to June 2023. It just goes to show you how fast solar can be added to the mix.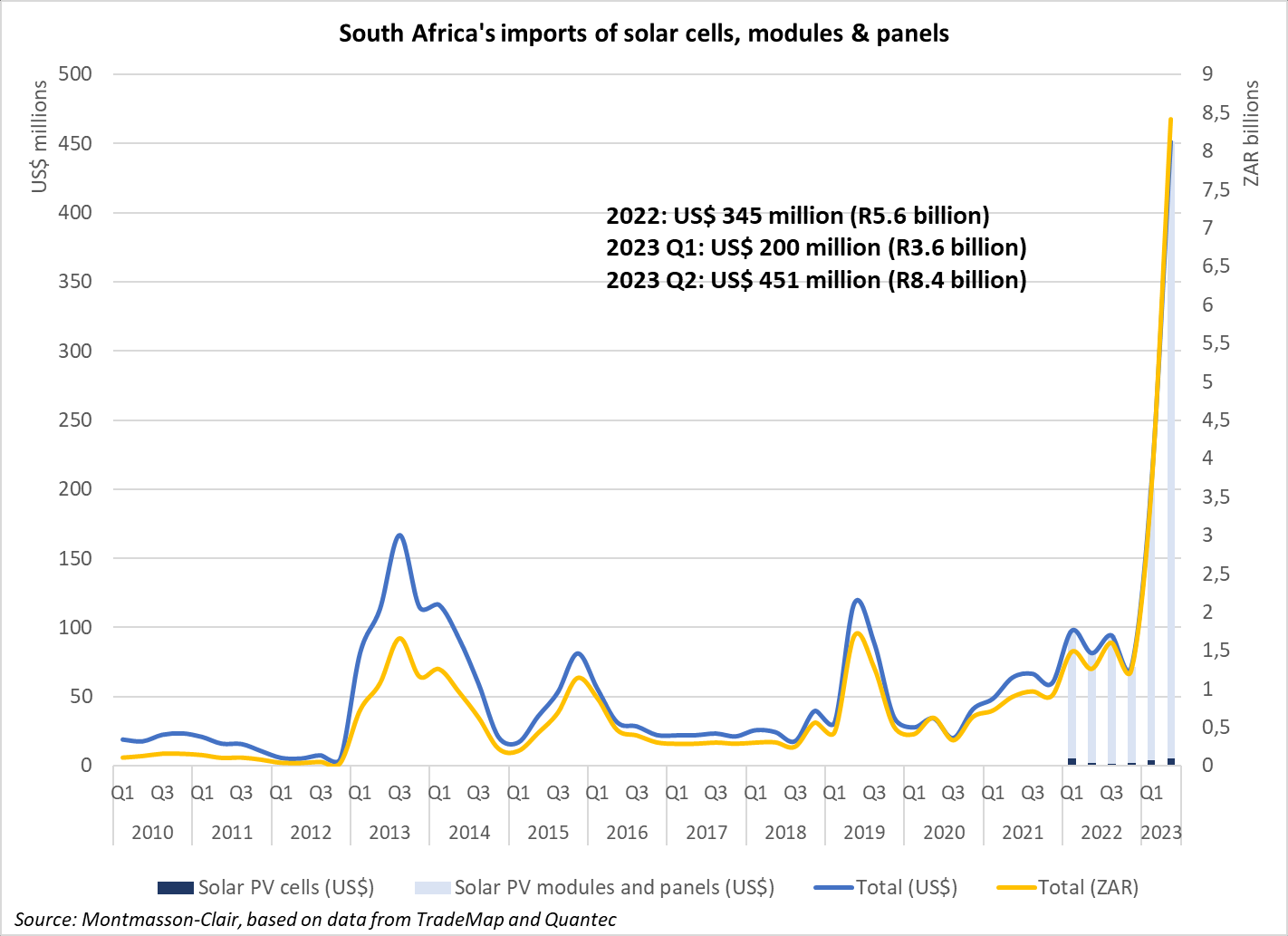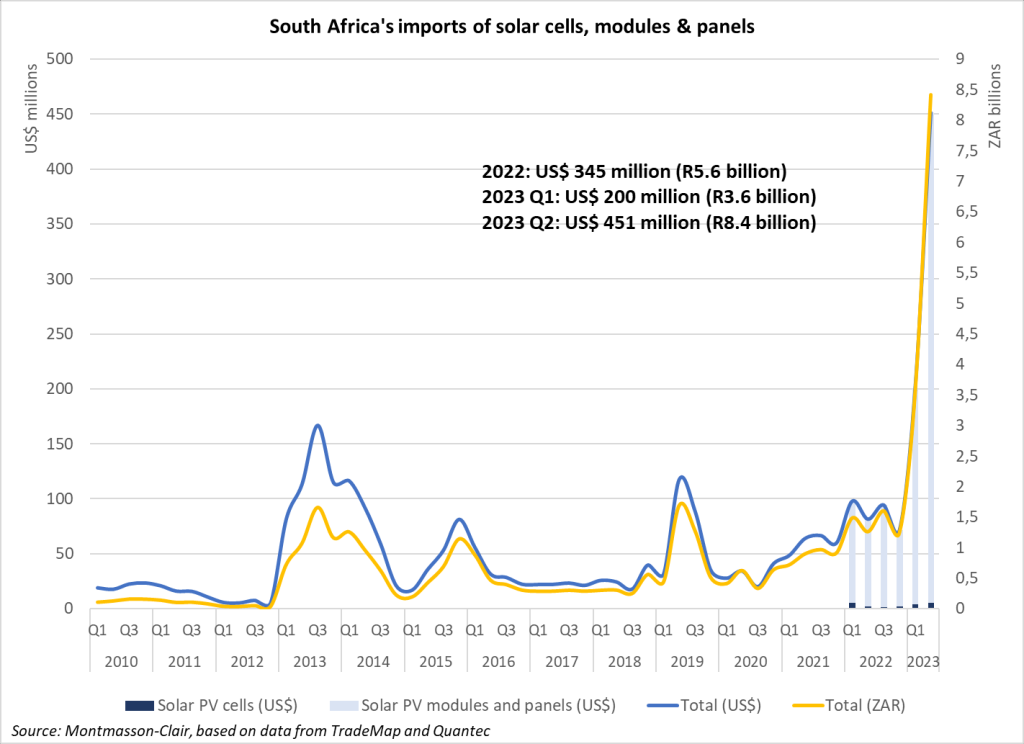 Another interesting insight was recently shared by Johannesburg-based Gaylor Montmasson-Clair, a senior economist at Trade, Industrial Policy Strategies (TIPS). According to an analysis done by Gaylor, $650 million (R12 billion) worth of solar panels were imported into South Africa in the first 6 months of 2023. Gaylor adds that this is 2,200 MW of solar panels. Some of these will only be getting into installations from now going forward, plus more panels are on the way, meaning by this time next year we could be seeing a whole lot more capacity added to that 4,412 MW total.
Adding the REIPPP total plus the rooftop/carport/ground-mounted solar total from homes, mines, and other businesses, it means that South Africa could now have over 10 gigawatts of wind and solar generation capacity (6,280 MW utility scale and an estimated 4,411 MW solar PV in C&I and residential). The accelerated adoption of distributed solar PV in South Africa has been really impressive.