The Bureau of Ocean Energy Management (BOEM) has announced the finalization of three wind energy areas (WEAs) offshore Delaware, Maryland, and Virginia. These areas are part of the Biden-Harris administration's goal to deploy 50 GW of offshore energy capacity by 2023. The final WEAs have the potential to support between 4-8 GW of energy production.
The three WEAs cover a total of approximately 356,550 acres. WEA A-2 is located 26 nautical miles from Delaware Bay, covering 101,767 acres. WEA B-1, spanning 78,285 acres, is situated about 23.5 nautical miles offshore Ocean City, MD. WEA C-1, covering 176,506 acres, is located approximately 35 nautical miles from the mouth of the Chesapeake Bay, offshore Virginia.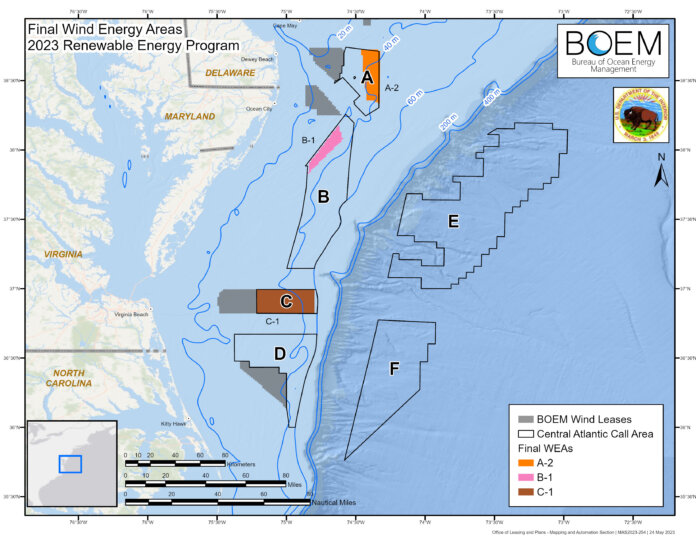 BOEM emphasizes the importance of collaboration and engagement with various stakeholders, including states, Tribes, local residents, federal government partners, and the public in the planning process. The agency values transparency and will continue to work closely with all interested stakeholders as it moves forward with the environmental review.
BOEM plans to publish a Notice of Intent in the Federal Register in August 2023, signaling the start of a 30-day public comment period. If a lease sale is decided for any of the WEAs, another public comment period will follow. The agency has partnered with the National Oceanic and Atmospheric Administration's National Centres for Coastal Ocean Science (NCCOS) to develop an ecosystem-based ocean planning model that aided in the selection of the final WEAs.
In November 2022, BOEM announced eight draft WEAs on the US Outer Continental Shelf offshore North Carolina, Virginia, Maryland, and Delaware. The final WEAs are located in comparatively shallow water, while additional WEAs in deepwater areas offshore the US Central Atlantic coast may be identified for future leasing, pending further study.
Furthermore, an in-depth review of WEA B-1 is underway to determine the feasibility of coexistence with Department of Defense and NASA activities. The results of this assessment will guide the inclusion of WEA B-1 in a potential lease sale, with any necessary mitigation measures identified in advance.