41+ GW of new onshore wind projects to be added in 10 years, Brazil to lead activity boosted by direct offtake.
Free market expansion will be one of the main drivers of onshore wind growth in the next 10 years in South America. The total wind market is set to add 41.2 gigawatts (GW) of onshore projects through 2032, based on a new analysis from Wood Mackenzie.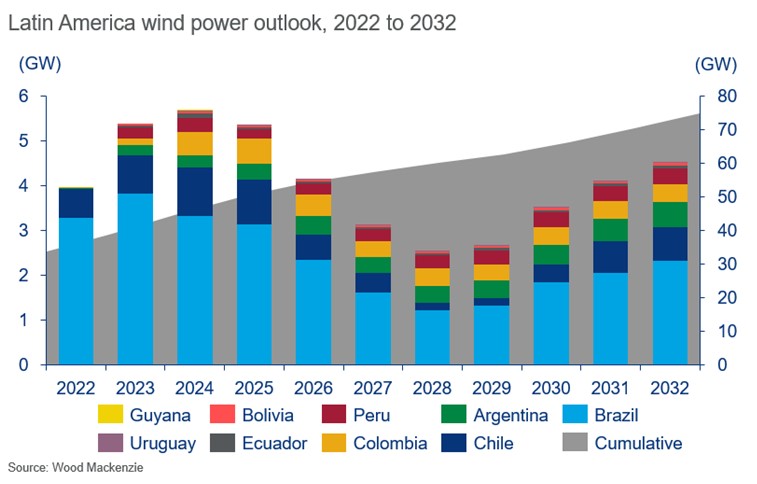 This activity will result in a cumulative capacity of 75 GW by 2032, up from nearly 34 GW at the end of 2022, according to the report "South America onshore power outlook" from Wood Mackenzie. Brazil will lead the way in this timeframe with 23 GW and 56% of all growth, followed by Chile.
"In the past, growth in this region has been driven by the regulated process via auctions, but this started changing with a new wave of free market activity," said Kárys Prado, Senior Research Analyst, Power & Renewables with Wood Mackenzie. "We will see large offtakers from the commercial and industrial sectors shifting away from auctions and migrating to the unregulated (or so-called free) market to seek favourable power purchase agreements. This will significantly drive buildout in South America moving forward, mostly in Argentina, Brazil, Chile and Peru. However, less mature markets like Colombia and Ecuador will continue to rely on the regulated market."
Green hydrogen will also be a springboard in the long term, with Brazil and Chile alone adding 1.5 GW of capacity through 2032 to support this activity. Although several multi-gigawatt projects have been announced, they are in early-stage development and will only scale up after 2030.
Despite the growth, the onshore wind market still faces challenges. "Grid constraints in wind-rich locations, such as the Colombian La Guajira, and increasing solar competition does limit the upside for capacity additions," said Prado. "Wind has had a historic advantage, but this will erode as solar buildouts can harness a wider geographic distribution and will become cheaper over time."