Outside the wind power wind turbine factory in Hohhot, north China's Inner Mongolia Autonomous Region, a truck loaded with wind turbine components moves slowly.
In the factory, workers walk around the wind turbines and tighten the bolts with wrenches.
The plant is operated by the Inner Mongolia Dongfang Wind Company. It mainly assembles wind turbine engines and has been in operation for more than seven months, according to Zhou Shihui, production manager of the company's project in Hohhot, capital of Inner Mongolia.
cnseg advertising space
The company is a microcosm of many new energy equipment makers changing design in north China. In 2022, several leading companies in this field have established themselves in Inner Mongolia, and the investment associated with manufacturing new energy equipment in the region has reached 62 billion yuan (about 9.02 billion US dollars).
In recent years, several new energy equipment manufacturing projects have also been launched in northwest China's Gansu Province.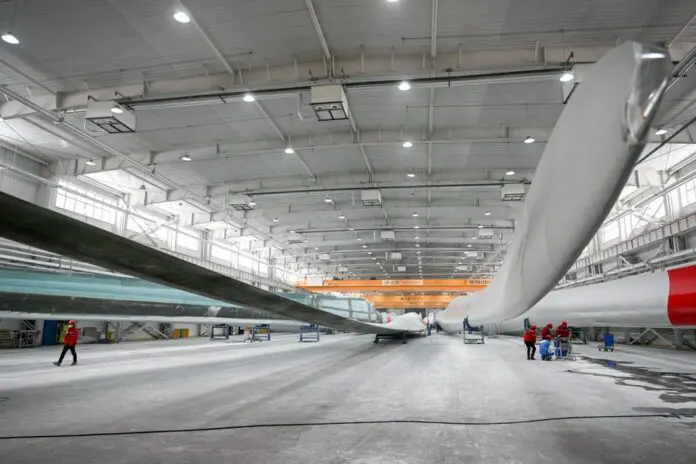 According to industry insiders, an important reason why new energy equipment manufacturers are eager to establish themselves in north China is the accelerated construction of large wind and photovoltaic power plants in this area, while there is also a continuous and growing demand for new energy equipment.
Starting in 2021, China has begun construction of its first batch of large-scale wind and PV bases in provincial-level regions such as Inner Mongolia, Gansu, Qinghai, and Ningxia, mainly in desert areas, and with a total capacity of nearly 100 million kilowatts.
At the Ulanqab and Xilingol wind farms in Inner Mongolia, clusters of white wind turbines streak across the mountains, while blue PV panels gleam in the sun at the Qinghai and Xinjiang PV farms.
At the same time, modern new energy equipment factories sprang up in these places. "When equipment manufacturers are close to the terminal market, equipment transportation and maintenance are more convenient," Zhou Shihui said.
While advancing in the new energy sector, China is attaching more importance to the growth of the new energy equipment manufacturing industry, aiming to develop the new energy industry to generate and sell electricity covering the entire industrial chain. .
By improving the location of key components of new energy equipment, China has also gained an advantage in international competition.
The country's renewable energy industry continued to lead globally, with Chinese-made photovoltaic modules, wind turbines, gearboxes and other key components accounting for 70% of the global market share last year, according to the National Energy Administration. Energy.
In 2022, China's renewable power generation was equivalent to a 2.26 billion-ton reduction in domestic carbon dioxide emissions, according to the government.
Inner Mongolia reported that during the 14th Five-Year Plan period (2021-2025), the output value of its new power equipment manufacturing industry is expected to reach more than 100 billion yuan, with wind power equipment and its components reaching an annual production. capacity of more than 8 million kilowatts.
Other northern provinces and regions, such as Gansu and Ningxia, are also actively planning the development of manufacturing new energy equipment.
"Following the requirement of high-quality development, we focus on the new energy sector and aim to drive rapid growth through equipment manufacturing in the sector," said Chen Zheng, deputy director of Mongolian energy bureau. Inside.