The Monsoon wind farm, which is set to sell power to Vietnam under a 25-year deal, will have 600 megawatts of installed capacity and should be launched in 2025.
Mitsubishi Corp said on Monday that it and other shareholders of the Monsoon wind power project in Laos have raised $692 million in funding for a large wind farm.
Mitsubishi, Thai renewable energy firm BCPG Pcl, and other stakeholders secured a financing package from the Asian Development Bank, Japan International Cooperation Agency, Sumitomo Mitsui Banking Corporation and other lenders, the Japanese firm said.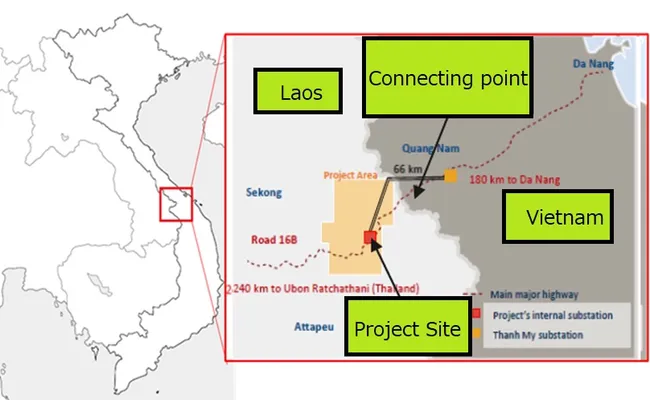 The project, which is set to sell power to Vietnam under a 25-year deal, will have 600 megawatts of installed capacity and should be launched in 2025. Its total costs stand at $950 million, according to Monsoon's website.
It is expected to generate over 1,700 gigawatt-hours of green energy each year.
The wind farm, which will be located on elevated land in southern Laos, has taken years to reach this stage.
Impact Energy Asia Development Ltd (IEAD) signed a Memorandum of Understanding with the government of Lao PDR in November 2011 to study the feasibility of large-scale wind projects in three provinces in central and southern Laos.
Based on the wind measurements and results of a pre-feasibility study, an area in Dak Cheung district in Sekong province and Sanxay district in Attapeu province was considered as the best site for a large-scale wind power project of up to 600 megawatts, the group's website said.
After Vientiane approved the study, IEAD was granted rights to develop the country's first wind farm in August 2015. The site covers about 68,000 hectares and plenty of wind, as it is 1,200-1,600 metres above sea level on hilly land with limited forest or land use, the group said.
In July 2017 the project was proposed to Vietnam's Ministry of Industry and Trades as the first cross-border renewable energy project in Southeast Asia. And three years later, the Prime Minister of Vietnam approved the plan to import power from the project via a 500kV grid connection and transmission line to the Thanh My substation.
A power purchase deal was agreed with Vietnam Electricity on 12 July 2021 with the goal of commercial operations beginning at the end of 2025.
Landlocked Laos has long sought to be the 'battery of Southeast Asia', mainly through the construction of dams on the Mekong River and dozens of its tributaries.
China has invested billions of dollars in these dams, but they are increasingly stirring strong opposition, because of the severe ecological impacts they have on the Mekong and many other riverside communities.
However, the increasing switch to renewable solar and wind power sources is likely to far better received by citizens in Laos and its neighbouring countries.