Across all segments of the industry, the U.S. energy storage market installed 4.8 gigawatts (GW) of capacity in 2022, nearly equal to the combined 2020 and 2021 installed capacity of 5 GW, becoming a record year for battery storage.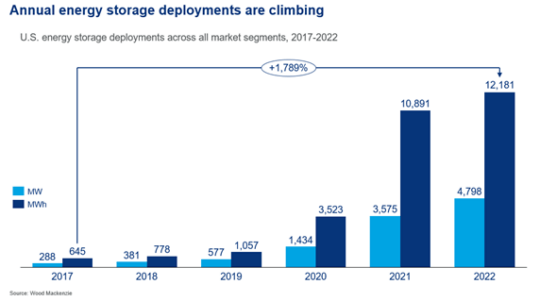 "Energy storage had its best year yet in 2022. Cumulative operating utility-scale storage capacity increased by 80%. While we saw a slight dip in installations toward the end of the year, the trend is clear: Energy storage is on a rapid growth curve and is already a key component of building a resilient grid that supports abundant clean energy," said John Hensley, American Clean Power Association (ACP) Vice President of Research & Analytics.
According to ACP and Wood Mackenzie's latest U.S. Energy Storage Monitor report released today, the market added 1,067 megawatts (MW) across all segments in the fourth quarter of 2022, making the quarter only the fifth highest for installations – 33% lower than Q4 of 2021, which is the highest on record.
Source: Wood Mackenzie U.S. Energy Storage Monitor 2022
The new report's findings show that the U.S. grid-scale (also referred to as utility-scale) segment installed a total of 848 MW in Q4 2022, which was a decline from more than 1 GW of installations in both Q2 and Q3 of this year. Decreased installed capacity was largely caused by supply chain and interconnection constraints. These headwinds continued to affect the project pipeline, with over 3 GW of projects scheduled to come online in Q4 delayed or cancelled.
However, the residential storage segment increased by 11% over Q3 and broke another record with 171 MW installed, ousting Q3 2022 by 17 MW. Capacity installations increased for this segment every quarter in 2022, confirming sustained demand for residential back-up power and resiliency.
Deployment in the community, commercial, and industrial (CCI) storage segment recovered from a significant drop in Q3 2022 with 48 MW installed in Q4, an increase of 78%. States traditionally strong in the CCI segment, such as New York, bounced back to higher deployment levels which boosted Q4 numbers.
"Despite a slow fourth quarter, total 2022 installations were still 44% over 2021. Grid-scale installations increased by 7% year-over-year, CCI by 3%, and residential experienced the strongest growth with installations up 36%. Looking ahead, we expect the U.S. storage market to install almost 75 GW between 2023 and 2027. Grid-scale installations account for approximately 60 GW, 81% of the new capacity added," said Vanessa Witte, senior analyst with Wood Mackenzie's energy storage team.
Forecasted capacity for the grid-scale and CCI segments will more than double in 2023, partly due to robust storage demand and to projects that were delayed from 2022 coming online. Wood Mackenzie also expects residential capacity to increase by approximately 88% in 2023 – with four times more residential storage to be installed in 2027 compared to 2022 volumes.
"California continues to hold the largest market share of residential installations through 2027 at 47%, which dwarfs any other state by far. Puerto Rico remains the second largest through 2027 with an 11% share," Witte said.
Project volume in the interconnection queue from 2023 to 2028 declined by approximately 10% from the last quarter; a result of independent system operators (ISOs) filtering through applications and developers withdrawing applications now that the rush to secure queue positions has somewhat subsided.
According to the report, 7 GW of projects with an original 2022 Commercial Operation Date (COD) have been pushed into later years or cancelled outright, likely due to increased costs or developers' inability to procure equipment within the timeframe needed.
Price relief for batteries is on the horizon, as commodity prices have begun to decline after prices for battery precursors, such as lithium carbonate, peaked in Q4. System cost declines are anticipated in 2023 though other issues remain, such as supply delays and an increasingly tight labor market.
Download the new report from ACP's website.