Japan is considering expanding locations of offshore wind farms from outside its territorial waters to the country's exclusive economic zone in a bid to jump-start the industry.
Currently, offshore wind farms are limited to territorial waters about 22 kilometers from the coast. This would be expanded to the exclusive economic zone (EEZ) located 200 nautical miles, or about 370 km, from the coast. Europe already has wind farms in EEZs.
Japan has been slow to utilize wind power, a popular form of renewable energy. To increase the number of offshore sites that can actually be used, legislation needs to be passed while technical and cost barriers must be overcome.
Europe has made offshore wind a renewable energy mainstay, installing capacity for about 27.8 gigawatts as of the end of 2021. China has reached about 26.3 GW. Meanwhile, Japan has almost zero, and domestic manufacturers have withdrawn from the development and production of wind turbines and other products.
The ruling Liberal Democratic Party has a growing sense of concern about this, and in February formed a legislative group to encourage offshore wind power and other renewable energy sources. Prime Minister Fumio Kishida and LDP Vice President Taro Aso are among the founders.
As the country looks to move toward decarbonization, the government has set goals to produce 10 GW by 2030 and between 30 GW and 45 GW by 2040.
"At this pace, the 2030 goal can be achieved, but the 2040 goal will be tougher due to a lack of suitable sites," warned an official from the Ministry of Economy, Trade and Industry.
Opening up the EEZ offers a solution. The Environment Ministry and others have estimated the number of sites suitable for wind power generation with water depths of less than 200 meters will be three times greater than if they were limited to within 30 km of the coast.
At the end of January, a Cabinet Office panel compiled a report stating that installation in the EEZ is "possible under international law."
Countries around the world have pushed ahead with wind farms in the EEZs. The Netherlands, the U.K., and Belgium each have several offshore wind turbines fixed to the seabed in the zones. South Korea plans to introduce floating wind turbines on the sea at about 20 locations.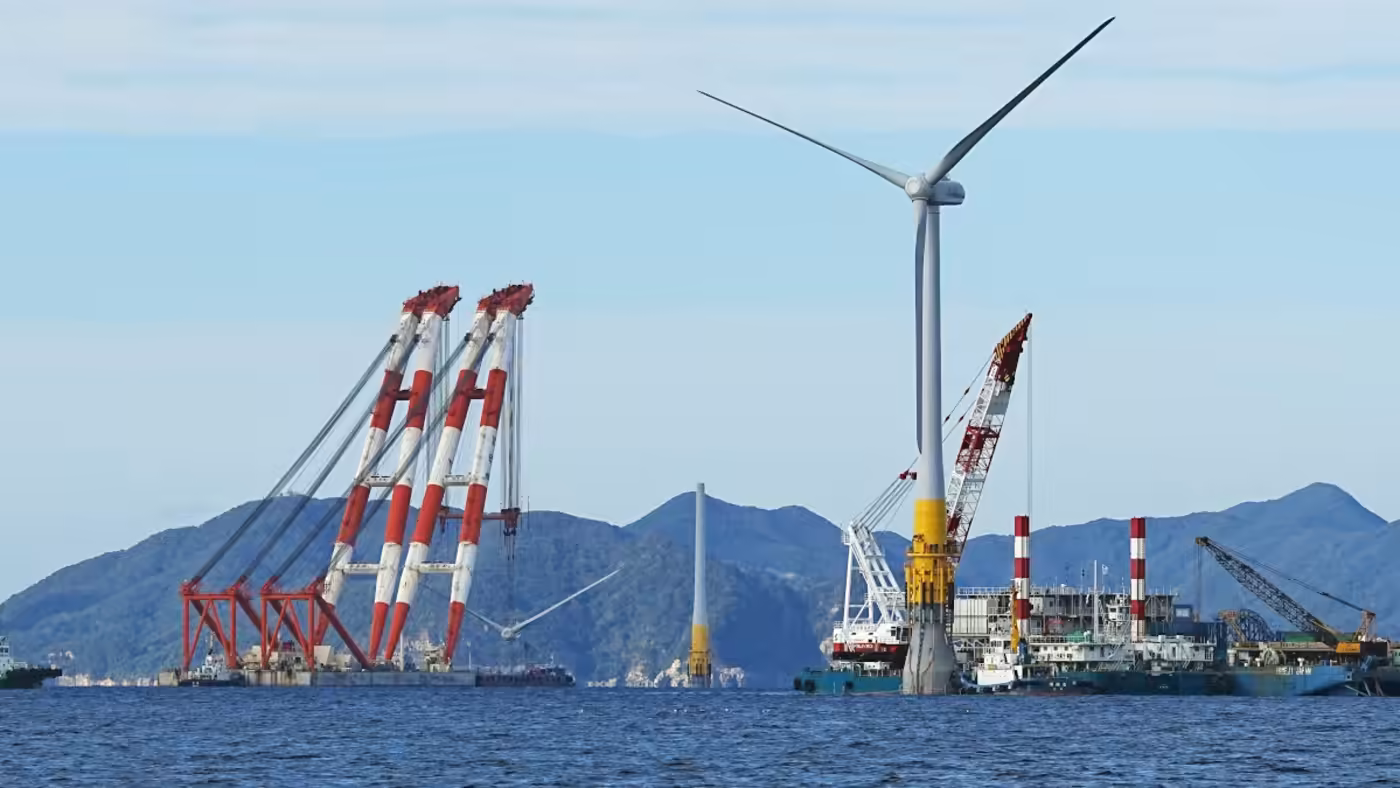 Japan needs to develop laws to follow suit. Legislation that took effect in 2019 defines the location of offshore wind power as within territorial waters. Unlike in territorial waters, where the seabed is national property, EEZs lack a legal framework, making it difficult to coordinate with fishermen and shipping companies, which in turn may raise hurdles for power generation projects. Industry insiders say a national response is required.
Unlike Europe and elsewhere, there are few shallow seas around Japan suitable for mounting turbines. The introduction of offshore wind power is not expected to spread unless the floating type, which is still in the process of adoption internationally, is used successfully.
In an EEZ, the transmission lines that bring electricity to land are longer, increasing costs. The maximum bidding price for past projects was 29 yen (21 cents) per kilowatt-hour for the fixed type and 36 yen per kilowatt-hour for the floating type. Costs would need to be lowered for the technology to become more widespread.
KAZUNARI HANAWA, Nikkei climate change editor, JUNTARO ARAI, Nikkei staff writer, asia.nikkei.com