It was mid 2017 when CTE Wind Civil Engineering, a consolidated consultancy and engineering office set up in France and with offices in 5 other countries, expert in the WTG foundation design with more than 15 years in the wind industry, bet for the Spanish and Latin American wind power markets as part of its growth strategy. To face it, it was decided to establish a subsidiary office in Spain to address those markets.
After six months, recruiting an accurate team for this new adventure, formed by experienced people both in the wind industry and those markets, CTE Wind Ibérica was officially born in early 2018.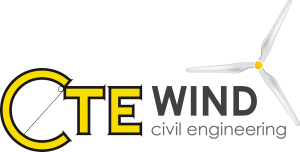 This first year of the CTE Wind Ibérica activities, marked by a strong and deep markets exploration and company introduction to the main industry players has lead into very promising results. A total of 40 projects got confirms the confidence and trust given by the main players across Spain, Argentina, Chile and Mexico as the forefront countries during these first steps. The global strength of the CTE Wind group is a plus as the international reputation and experience guarantees a successful collaboration within our network.
CTE Wind Ibérica has consolidated its position as a reliable company, and thus obtaining 9 projects in Spain, 11 in Argentina, 6 in Chile, 8 in Mexico and many more in other countries (Dominican Republic, Jordan, Australia…) coming from companies operating in the so exciting Spanish Wind Industry. Utilities, Developers, EPC and BOP companies rely nowadays on CTE Wind Ibérica to support their projects. The local representatives in Mexico, Argentina and our local partner in Chile allow to be closer to the customers.
Although the nearest future is promising, with many open tenders in Spain and Latin America, relaxation and self-complacency are not affordable but needs to continue working hardly to offer to the market the best quality services. In addition to being as close as possible to our clients, understanding and adapting to their needs, and proposing our best approaches, CTE Wind Ibérica will be also participating on the main wind industry events, improving its calculation and design methodologies, investing on the most powerful design tools, enlarging its internal knowledge and researching and developing advanced WTG foundation solutions focused on the cost reduction and improvement of traditional designs, specially to face the challenges coming from either from the newest enormous WTGs, as well as the new and exotic markets that will mark the wind industry future.
Dante Arroyo