Four steam turbines will help generate 700 megawatts of clean electricity. High-efficiency and rapid-start turbines support CSP (Concentrated Solar Power) operations.
As part of its ongoing support to the Dubai Clean Energy Strategy 2050 and its role as a premier partner to Expo 2020 Dubai, Siemens will provide four steam turbine generator sets and auxiliary equipment for a 700-megawatt (MW) concentrated solar power (CSP) project in Dubai. The facility will be the largest single-site CSP plant in the world and comprises phase four of the Mohammed Bin Rashid Al Maktoum Solar Park.
The Siemens scope of supply includes three solar steam turbines with a power output of 206 megawatts (MW) each for three parabolic trough units and another solar steam turbine with an output of 108.5 megawatts (MW) for one central tower unit. The first phase of the CSP project will include one 206-megawatt (MW) parabolic trough unit and the 108.5-megawatt (MW) central tower unit, and is scheduled to be commissioned during Expo 2020 Dubai.
"This record-breaking order reflects Siemens' commitment to support Dubai Electricity and Water Authority (DEWA), Dubai and the United Arab Emirates in achieving their clean energy goals through the provision of efficient, high-performance technologies," said Jean-Claude Nasr, Senior Executive Vice President, Power Generation at Siemens in the Middle East. "For more than 20 years Siemens has contributed to the development of reliable and efficient power infrastructure that has been an important pillar of the long-term, sustainable economic development of Dubai and the UAE."
DEWA awarded the project in 2017 to an ACWA Power-led consortium that offered a record-low levelized cost of electricity (LCOE) of USD 7.3 cents per kilowatt-hour. This price level is comparable to fossil fuel-based generation without subsidy. Like fossil-fuel plants, the CSP facility will provide reliable and dispatchable electricity throughout the night.
"At the world largest CSP project, we are adding to the fleet of Siemens Steam Turbines at our growing portfolio of CSP plants relying on the engineering capability of Siemens to not only deliver a competitive product but that also remains reliable to generate power for the technical life of the plant through timely interventions," said Paddy Padmanathan, President and CEO, ACWA Power.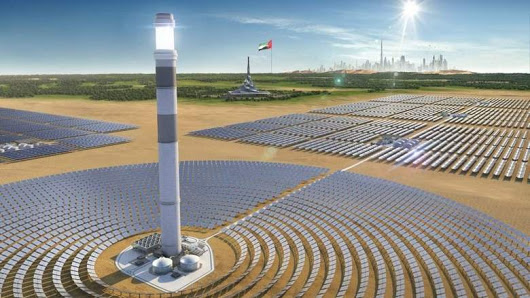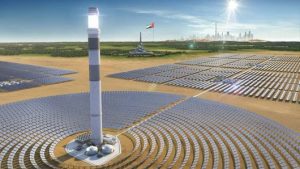 Given the nature of CSP operations, it is essential that the steam turbines used in these plants be highly efficient and offer rapid start-up times. The Siemens technologies in these steam turbines meet both requirements and have a proven track record in CSP settings. ACWA Power together with DEWA and Silk Road Fund have established Noor Energy 1 to develop, own and operate the project under a 35 years Power Purchase Agreement (PPA). Shanghai Electric is the EPC Contractor and NOMAC is the O&M Operator. Noor Energy 1is expected to achieve an annual savings of 2.4 million tons of carbon dioxide. This will support the Dubai Clean Energy Strategy 2050 goal of increasing the share of clean energy used in Dubai to 25 percent by 2030 and 75 percent by 2050. It also will support the UAE Energy Strategy 2050, which targets 44 percent of the nation's energy coming from renewable sources by 2050.
The Mohammed bin Rashid Al Maktoum Solar Park is the largest single-site solar park in the world, with a planned capacity of 1,000 megawatts (MW) by 2020 and 5,000 megawatts (MW) by 2030. The 13-megawatt (MW) first phase became operational on October 22, 2013; the 200-megawatt (MW) second phase was inaugurated on March 20, 2017. The 200-megawatt (MW) first stage of the third phase became operational on May 1, 2018.