The Chinese government's moves to ramp up renewable energy consumption have sparked optimism over the future of China Longyuan Power Group Corp., the country's biggest wind power producer.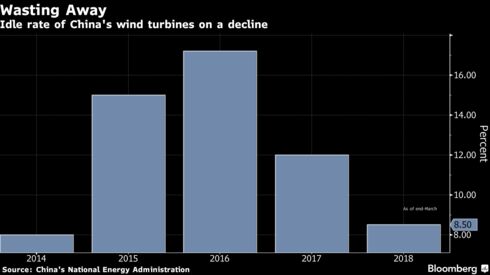 Around half of the 29 analysts covering Longyuan have raised their price target for its Hong Kong-listed stock over the past month, according to data compiled by Bloomberg. Following a 25 percent rally this year — which far outperformed a 4 percent gain in the Hang Seng index, the stock is still trading at 18 percent below the 12-month analyst consensus target of HK$8.22.
Driving the bullishness on Longyuan and other Chinese wind power producers like Huaneng Renewables Corp. and China Datang Corp. Renewable Power Co. is a series of initiatives taken by the government recently to boost renewable energy demand and ease curtailment — a problem caused by overly rapid wind turbine installation and infrastructure bottlenecks. Grid operators have been forced to cut back on purchases as they are unable to fully absorb the intermittent power from renewables such as wind and solar.
China, the world's largest wind power producer, is considering setting a national target to reduce average wind curtailment rates to less than 10 percent next year and to about 5 percent by 2020, according to an April 12 government policy proposal document. The country is rolling out a clean-energy quota system to require minimum levels of renewable power use, holding regional grids, power distributors and generators responsible.
In addition, China is also clamping down on the ability of local authorities to plan new wind power projects in regions where the most turbines stand idle, slowing the expansion of the industry to a pace manageable for the electricity grid.
Valuation Recovery
In light of the recent improvement in the overall wind power industry, China is expected to build more wind farms this year to meet rising demand. Zhou Yiyi, a Shanghai-based analyst at Bloomberg New Energy Finance, said she expected China to add 21.3 gigawatts of onshore wind capacity this year, compared with 16.8 gigawatts in 2017.
"Longyuan's valuation is recovering as its profit is expected to rise with less curtailment," said Louis Sun, an analyst at BOCOM International Holdings Co. in Shanghai. "It may still have upside potential," said Sun, who has a target price of HK$8.66 on Longyuan.
The idle rate at Longyuan's wind farms will drop to about 7 percent in 2018 from 10.43 percent last year and 15.76 percent in 2016, President Li Enyi said in March. The company reported a 67 percent rise in net income in the first quarter on higher wind power output.
Longyuan's earnings per share growth is expected to accelerate to 30 percent this year from 15 percent in 2017, before slowing to 13 percent in 2019, according to consensus forecasts compiled by Bloomberg.
To be sure, Longyuan's long-term profit outlook is still uncertain given China's renewable power industry remains heavily subsidized by the government and the company has suffered from subsidy payment delays in the last few years. The company's accounts receivables, most of which are government subsidies, accounted for 29 percent of its revenue in 2017.
Nevertheless, Longyuan is a standout in terms of current profitability. Its trailing 12-month operating margin of 33.9 percent and return on equity of 9.73 percent beat almost three-quarters of its peers in Asia-Pacific emerging markets, according to data compiled by Bloomberg. Yet its price to earnings ratio, now at 12.35 times, is lower than 86 percent of those peers.
— With assistance by Feifei Shen
bloomberg.com