Chuan-Neng Lin, the director general of Ministry of Economic Affairs stated at the PV Taiwan Forum Last Friday (10/22) that Taiwan has great potentiality in developing wind Energy with being surrounded by the sea. According to the statics of the international institute 4C Offshore, all of the top 20 best offshore wind farm spots are located in the Taiwan Strait.
PV Taiwan 2017 held "Wind energy Taiwan" and "PV Taiwan Forum" for the first time, and the many leading wind power solutions providers at home and abroad participated in the exhibition. Chuan-Neng Lin, the director general of Ministry of Economic Affairs, Hang-Chang Hsieh, the chief secretary of BSMI, and the leading manufacturers come from Germany and Canada are also invited to discuss and analyze the future trends.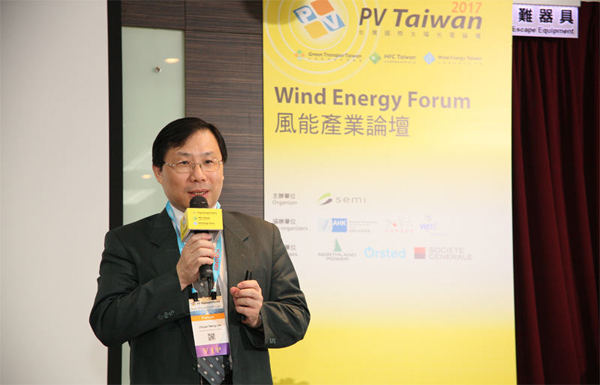 Chuan-Neng Lin also indicated that the Bureau of Energy is promoting offshore wind power so far. Two 4MW wind turbines were installed in Miaoli and completed the demonstration project under the first phase. Currently, Bureau of energy is proceeding the announcement of 36 potential spots under the second phase and environmental impact assessment (EIA) of regional development policy under the third phase, ensuring the development scope and building the friendly environment of development.
In addition, with infrastructure such as construction docks, industrial areas, underwater infrastructure, operation docks, construction fleets and grid system are being deployed, where offshore wind power had been forecasted to reach 5.5GW by 2025.