The German wind power market is characterized by light and shadow at the moment. Whereas sales volumes in the industry are heading for a new record, the award of projects resulting in short-term revenues for producers is declining.
According to calculations by the industry association, the capacity of new installed onshore turbine rose by eleven percent again in the first half of 2017 to 2,281 megawatts (MW). Nordex expanded by the same rate in this environment, maintaining its market share of around 17 percent. "This is a positive sign that proves that our current range is competitive in the hotly contested market. What is more, we are about to launch a far more efficient wind power system, which we are confident will attract strong demand in the foreseeable future," says Patxi Landa, Chief Sales Officer of Nordex SE.
Over the first half of the year, the trend towards higher-output turbines with larger rotors continued. Thus, the average nominal capacity per turbine rose to around 2.9 MW. Says Landa: "Technically, an output well in excess of this is already possible. We are also responding to this trend and increase spends on our products again."
Nordex sees greater challenges in the design of the tendering process. In the first round held in May more than 95 percent of the projects were awarded to citizen wind farm entities. These projects do not require any permit under the German Federal Emission Control Act to take part in the process and have a completion period for the construction of the wind farm of 54 months instead of two years.
Consequently, no producer received any contracts worth mentioning from the tender volume of around 800 MW in the first round. "Producers that do not have any business outside Germany have now been largely left high and dry as they are dependent for their survival on the shrinking volume of transitional projects under the German Renewable Energies Act. "The ability to take part in tendering without a construction permit is a design error which must be eliminated permanently to avert any risk to the German wind power industry," says Landa. To date, the government has only made the necessary adjustments for the first two rounds in 2018.
With the internationalisation strategy that it has been pursuing for many years, Nordex has reduced its exposure to the German market. Following the acquisition of Acciona Windpower that was completed in April 2016 this now also applies to the European market. Despite this, Germany remains an important market and production hub for the Group.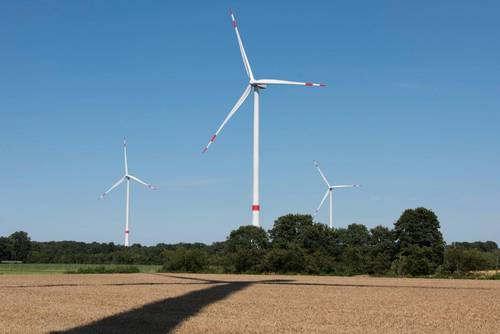 The Group has installed wind power capacity of around 21 GW in over 25 markets, generating sales of EUR 3.4 billion in 2016. It currently has more than 5,000 employees. The production network comprises plants in Germany, Spain, Brazil, the United States and India. The product range primarily concentrates on onshore turbines in the 1.5 – 3.9 MW class addressing the requirements of developed as well as emerging markets.