WindEurope CEO Giles Dickson delivered the opening keynote address at the Offshore Wind Conference in Bilbao as part of Marine Energy Week.
Speaking to an audience of over 200, which included figures from industry, the Basque government and financial institutions, Dickson gave a global overview on the current market data and medium-term outlook of offshore wind, showing how far this sector has come and what steps will be necessary to ensure its future flourishing.
Recent growth
Since 2010, he noted, there has been almost €65 million worth of new assets invested in offshore wind in Europe; Europe now has 3,589 grid-connected turbines and an installed capacity of 12.6 GW.
Dickson showed how turbine installation is occurring in ever-deeper waters and at ever-greater distances from the shore, and commented that grid-connected turbines in 2016 were 15% larger than those of 2015.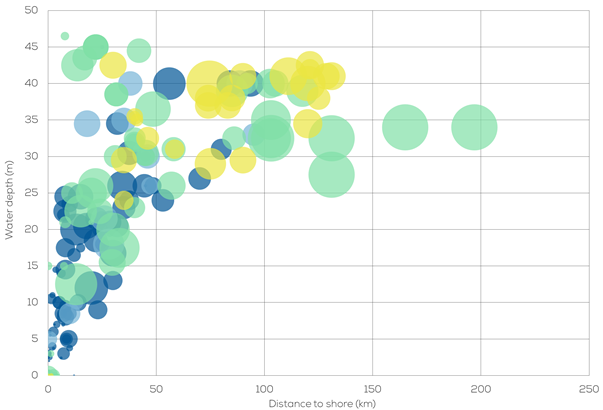 Offshore and public impact
Dickson said that further publicly-funded research and development will prove crucial to the future of offshore. Dickson drew attention to the immediate public benefits that offshore wind can bring to communities and economies in terms of jobs and economic rejuvenation, citing Hull in the UK as an example of a place where offshore energy has a transformative effect on economically marginal areas.
Looking forward – the importance of policy and collaboration
Dickson pointed out that recent cost reductions are impacting positively on government thinking on offshore and providing a robust economic case for maximising the role of offshore in Europe's energy transition. Ultimately, effective forward-thinking government policy on offshore wind will prove crucial to the sustained growth of this sector. Dickson stressed that 4 GW per year in Europe is the minimum required for offshore to be a sustainable industry, while a minimum of 6-7 GW per year will be essential if offshore is to remain at the forefront globally. If such targets are to be met, effective collaboration between governments in the further expansion of the offshore sector will be essential. Here Dickson cited recent positive stories in this area such as the recent North Seas declaration.
Dickson concluded by stressing the crucial role large volumes will play in driving further cost reduction, stating: "By securing the volumes, we are securing our future."
After his keynote address, Dickson chaired a discussion on offshore wind farms between Javier Echarte, Head of Offshore Mechanical Design at General Electric-Alstom, Luis Álvarez. CEO of ADWEN, and Bent Christensen, Senior Vice President of Siemens Wind Power.