Speaking at the conference on wind energy held by the Danish Embassy, Deputy Minister of Industry and Trade Hoang Quoc Vuong said that with a coastline of over 2,300 kilometers, the country is in a good position to develop the wind power sector.
The Government has taken a couple of policy steps to spur clean energy development, including Decision 37, and has set a target of increasing the wind power capacity to 6,000 MW by 2030, 2.1% of total power output.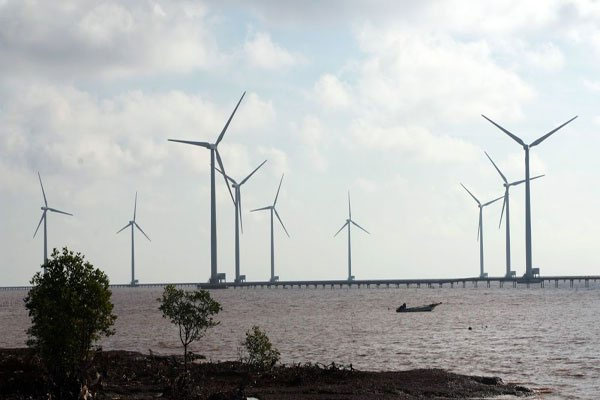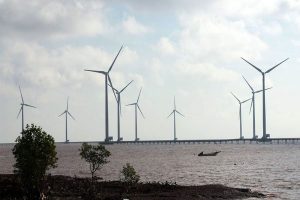 A view of an offshore wind park in the Mekong Delta province of Bac Lieu. Vietnam holds huge growth potential for wind energy and has policy incentives available but only three wind power projects have been put into operation nationwide.
With the support of the Danish Embassy and other foreign partners, the nation is drawing up a wind energy map.
Vuong noted the three existing wind farms have a combined capacity of just 150 MW. He explained investors are not interested in this field as wind power prices are still low.
Henrik Breum, special adviser the Danish Energy Agency's Centre for Global Cooperation, told the conference that before the 1973 oil crisis, 99% of electricity in Denmark was sourced from fossil fuel-fired power stations.
But things changed a lot in the following 40 years as Denmark embraced green energy. In 2014, renewable energy accounted for 56% of total power generation in Denmark, the highest percentage in the world.
Wind energy requires big upfront investments, so the Danish government has adopted appropriate polices, set suitable electricity prices for a long term and give priority to the use of wind power in the national grid.
Steve Sawyer, secretary general of the Global Wind Energy Council, said at the conference that wind power contributed around half of the world's electricity production growth in 2015.
Wind power makes up 4% of the world's electricity output and the percentage may climb to 8% by 2020, 18-20% by 2030 and around 30% by 2050 if countries concentrate on combating climate change, said Sawyer.
Charlotte Laursen, Danish Ambassador to Vietnam, said that according to Vietnam's power industry development strategy adopted in 2011, the proportion of renewable energy in its total power output would reach 7% by 2020 and 10% by 2030 (excluding hydropower).
Wind power plays a pivotal role in this strategy, she said, because Vietnam has the biggest wind power potential in the region. Denmark is ready to help Vietnam develop this source of clean energy, she noted.