When I wrote two weeks ago that Saudi Arabia is targeting 41-GW of solar electricity generation, a sceptical friend rightly asked me to check this number. I was quoting the American Energy Information Administration Country analysis report.
I know the number is staggering but it is achievable considering the consequences of not doing so. In 2011, over 50 per cent of Saudi electricity was produced by burning oil and the country cannot afford to go on like this.
The Saudi agency responsible for developing renewable energy — K.A. CARE — with a budget of $109 billion (Dh400.35 billion) confirmed the plan of 41-GW solar power by 2032 and added it would be composed of 25-GW of solar thermal and 16-GW of photovoltaics, starting from almost nothing in 2012. But in January last, it was announced the plan may now be achieved by 2040.
There is already 2,000-MW under construction. The country is going into solar panel manufacturing and production of polysilicon, a constituent of solar cells.
Saudi Aramco and Saudi Electricity are cooperating in setting up 10 solar projects around the country, thereby emphasising the interest of the oil industry in seeing the programme through. The Saudi oil minister said in Paris last May that the country planned to be a "global leader in solar and wind energy". He added: "Hopefully, one of these days, instead of exporting fossil fuels, we will be exporting gigawatts of electric power."
If you still think the Saudi numbers are staggering, then consider what the projections for China are. In 1999, China had 16-MW of solar power capacity installed, but by the end of June last, solar photovoltaics capacity reached almost 36-GW and 80.3 per cent of the world's rooftop water heaters were installed in China.
Targets were often set modestly since 2007, but always revised and exceeded expectations such that the target for 2017 is now at 70-GW. The IEA in its 'World Energy Outlook 2014' expects China to add 126-GW of solar photovoltaic capacity by 2025 and another 143-GW by 2040 while there are estimates of even higher numbers.
In concentrated solar power (CSP), the country is supposed to add 4,000-MW with 12 projects across the country.
China is currently building a "giant" solar power station of 200MW in the Gobi desert — reported to power a million homes — as part of its initiative to reduce fossil fuels by 20 per cent by 2030. The plant — called Delingha — is a commercial venture jointly developed by Bright Source Energy from California and the Shanghai Electric Group.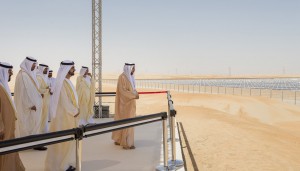 Due to its heat storage of 15 hours, it can supply stable power round the clock. The plant will cover 260 square kilometres compared to the current largest Desert Sunlight plant in California, which is 16 square kilometres and produces 550MW. Delingha will save 4.26 million tonnes of coal every year.
In this entire programme, China is supported by a wide base of manufacturing facilities in solar panels, whereby it became the world's leading supplier since 2008 and is expected to produce 51-GW of photovoltaic panels per year by 2017.
In the UAE, solar power has the potential to provide most of the country's electricity demand and the country is taking steps in that direction. In 2013, Shams 1, a 100-MW concentrated solar power plant near Abu Dhabi started operations and two similar stages are to follow. Masdar City's power is provided by a 10-MW solar photovoltaic and 1-MW of rooftop solar panels.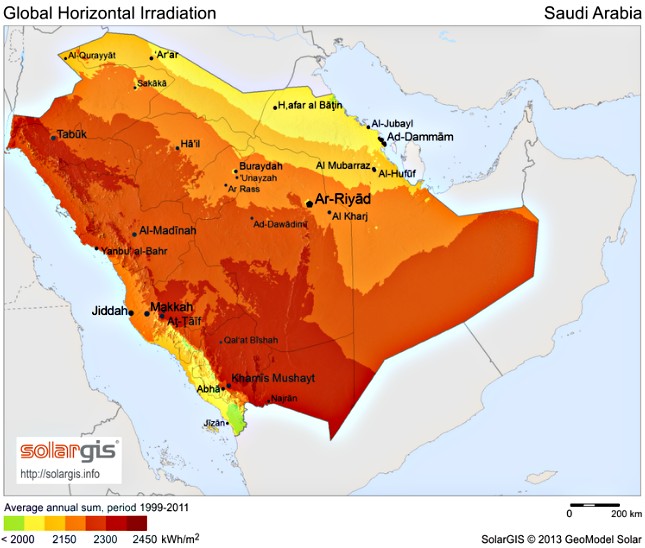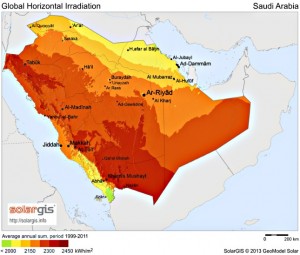 Dubai aims at 7 per cent of its electricity from renewable energy by 2030. The 13-MW plant in Seih Al Dahal — completed in 2013 — is the first phase of a 1,000-MW Mohammad Bin Rashid Al Maktoum Solar Park. The second phase is a 200-MW plant to be completed in 2017 and the third of 800-MW by 2020.
Concentrated solar power is to be considered and the entire site may eventually reach 3,000-MW. Dewa is to promote rooftop panels for homes and businesses. In Morocco, the first phase of the solar plant in Ouarzazate is expected to be operational this year at 160-MW to be followed by 200-MW and 150-MW. Ouarzazate is the first of five plants having a total capacity of 2000-MW by 2020 with an estimated cost of $9 billion (Dh33.06 billion).
There is no doubt about the high prospects of solar energy especially in locations similar to our region where sunlight intensity is supporting. With the advances in technology, accumulated experience and the fall in unit cost due to wide demand, solar energy is becoming more and more competitive with the traditional power generation technologies fuelled by oil or gas.
The current fall in oil and gas prices may slow growth temporarily, but government policies and the fall in costs will counter that.