EDF Energies Nouvelles is announcing the commissioning of the Longhorn wind farm by its North American subsidiary EDF Renewable Energy. The start-up of this latest 200 MW wind energy facility has lifted the group's installed capacity in Texas close to the 1 GW mark.
Located in North Texas, the Longhorn wind farm is comprised of 100 Vestas wind turbines with a unit capacity of 2 MW, for a total installed capacity of 200 MW. Output from the Longhorn wind farm is equivalent to the annual electricity consumption of around 55,000 Texas homes.
The Longhorn wind farm is tied into the Competitive Renewable Energy Zone (CREZ) transmission line connecting the wind energy of northern Texas, a very windy area, to high-consumption regions of the state. The power generated by the wind farm is sold into the ERCOT (Electric Reliability Council of Texas) local power market and covered by a long-term, fixed-price energy purchase agreement.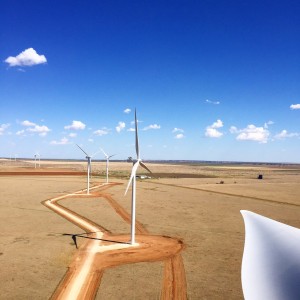 Balance-of-plant operations & maintenance services at the new wind farm is provided by EDF Renewable Services, EDF Energies Nouvelles' subsidiary in North America specialised in this activity.
Following on from Spinning Spur 1 (161 MW), Spinning Spur 2 (161 MW), Bobcat Bluff (150 MW) and Hereford (200 MW) facilities, the Longhorn (200 MW) wind farm is the fifth wind energy installation to be commissioned by the group in Texas.
At May 2015, EDF Energies Nouvelles has completed 872 MW out of its 1 GW of projects due to be built in Texas by end-2015.
EDF Energies Nouvelles is a market leader in green electricity production, with a portfolio of 7 517 MW of gross installed capacity focused for the most part on wind (onshore and offshore) and solar photovoltaic energy. Mostly operating in Europe and North America, EDF Energies Nouvelles continues its development in promising emerging areas taking position in new countries (Brazil South Africa and India). The Company is also present in other segments of the renewable energy market: marine energy, biomass and distributed energies. EDF Energies Nouvelles manages renewable energy projects' development and construction as well as operation and maintenance for its own account and for third parties. EDF Energies Nouvelles is a subsidiary of the EDF Group dedicated to renewable energy.