DanTysk offshore wind power plant in the German North Sea was officially inaugurated today.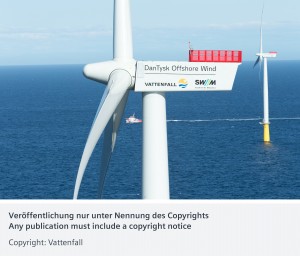 Siemens has supplied, installed and commissioned 80 wind turbines for the 288-megawatt project, each designed to generate 3.6 megawatts of power and equipped with a 120-meter rotor.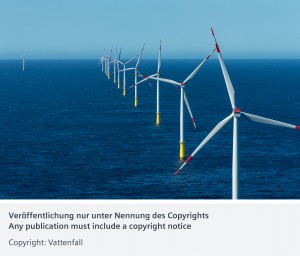 Now Siemens wind turbines with a total capacity of over 1 gigawatt feed offshore wind power into Germany's power grid.
Owner and operator of DanTysk wind park is a consortium comprising the Swedish power company Vattenfall and Stadtwerke München, Munich's municipal utility. The wind power plant can generate up to 1.3 billion kilowatt-hours of electricity every year – equivalent to the total annual consumption of about 400,000 German households.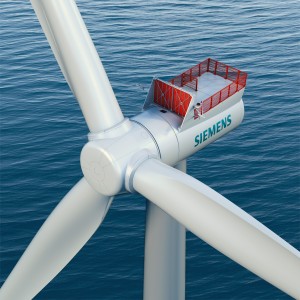 "Including DanTysk offshore wind power plant, the installed capacity of all Siemens wind turbines in German waters now tops 1 gigawatt," says Michael Hannibal, Offshore CEO of Siemens' Wind Power and Renewables Division. Around 300 wind turbines installed across eight projects contribute to this milestone. Supplementary, Siemens has orders in hand for 700 additional wind turbines to be erected off Germany's North Sea and Baltic Sea coastlines which will add over 2.8 gigawatts of clean offshore wind generated output to the existing capacity. This also marks a major important milestone for the offshore power sector in Germany. The industry association VDMA (German Engineering Association) expects up to two gigawatts more offshore wind power will come on line in 2015. Experts in Germany envisage in total about 3 gigawatts of installed capacity on the grid by the end of 2015. As Hannibal adds, "Germany's energy transition is thus also taking shape far out to sea."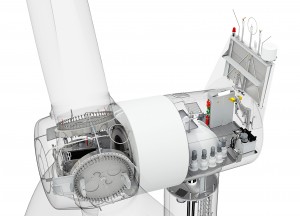 DanTysk offshore wind power plant is located approximately 70 kilometers offshore west of the German island of Sylt. In waters measuring between 21 and 32 meters deep, foundations anchored in the seabed provide the base on which the wind turbines were erected. The wind turbines are not the only thing Siemens is providing DanTysk: the German technology group is taking charge of preventive and corrective maintenance to the wind turbines within the scope of a five-year service agreement, and also supplied the turnkey grid connection for the wind power plant, called SylWin1. This direct-current (DC) offshore link, run by the transmission grid operator TenneT, comprises the connecting systems that connect the offshore wind power plant to the German electricity grid. SylWin1 consists of an offshore converter station at sea, and a receiver station on land, 160 kilometers of undersea cable and further 45 kilometers of underground cable on shore. Overall, three offshore wind power plants will be connected to the grid via this offshore link.
Hannibal continues: "We are not resting at our oars after these successes. Siemens is working ceaselessly to lower the costs of offshore wind power. We want to have technologies available already by 2020 which, together with improvements to turbine foundations, will make it possible to drive power generating costs from offshore wind down below 10 euro-cents per kilowatt-hour." Just recently the company introduced yet another advancement to its 6-megawatt series: This new wind turbine, designed for 7-megawatt output, will be capable under high-seas conditions of harnessing almost ten percent greater energy yield per year than its predecessor model. Series production of these new units is scheduled to begin in 2017.
Yet, Siemens is banking on innovating not only its wind turbines, but also the vital grid connections: The high-voltage alternating-current (AC) transformer platforms used to date mainly for near-shore installations can in future be replaced by a significantly smaller grid connection solution from Siemens based on alternating current technology. The considerable savings of this innovative solution in terms of both space and weight reduce costs substantially.
Siemens also offers cost-cutting solutions even while wind turbines are in operation: New types of purpose-built ships called Service Operation Vessels (SOV) form part of the logistics infrastructure ensuring more efficient maintenance operations and thereby significantly benefiting the availability of offshore wind turbines.
With renewable energy today accounting for 23 percent of power generation in Germany, it is the express aim of the German Government to increase this share to 80 percent by 2050. Use of offshore wind farms is an essential prerequisite to achieving this goal by cost-efficient means. Strong winds at sea can be harvested and power plants at sea are capable of drawing level with the electrical generating capacity of fossil-fuel power plants. According to the Government's plans wind turbines delivering a total installed capacity of 6.5 gigawatts (GW) are to be installed in German waters by 2020, with 8.5 GW more to be added by 2030.