Spain's renewable power plants accounted for 47% of the country's electricity in March, according to data disclosed on Friday by grid operator Red Electrica de Espana (REE).
Generación de enero a marzo del 2015
Wind power output fell 2.9% year-on-year to 4,903 GWh last month, while its share in total power was 22.5%. Hydroelectric power plants represented 17.5%, while solar photovoltaic (PV) and concentrated solar power (CSP) parks generated 3.2% and 2%, respectively. The output from all mentioned sources grew in comparison to February.
Generación del mes de marzo del 2015
Gross power demand in mainland Spain went up by 1.1% year-on-year to 21,145 GWh, while in calendar- and temperature-adjusted terms demand decreased 0.2%. In January-March, demand stood at 64,813 GWh, up 2.3% on the year.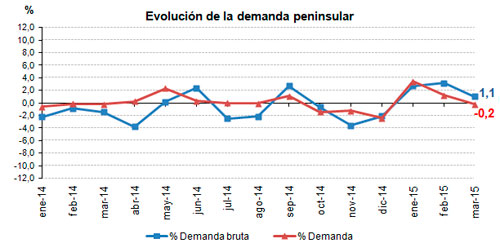 The country's total installed capacity as at December 31 is estimated at 102.3 GW, 22.3% of which is wind farms.
http://www.evwind.com/2015/03/31/eolica-lidera-la-generacion-electrica-en-el-primer-trimestre-en-espana/
https://www.evwind.es/2015/04/01/wind-energy-bring-237-of-spains-power/51307