Is this being too optimistic for a developing country that has learned to make do with the cheap and the old?
Electric vehicle manufacturers, both local and foreign, beg to differ.
In the 3rd Philippine Electric Vehicle Summit held in Pasig City on Thursday, February 27, more than 500 participants from all over the world gathered to celebrate the achievements of the electric vehicle (EV) industry. The event gathered major industry players, manufacturers, NGOs, the academe, and government officials.
"The Philippines is at the center right now. We can be the hub for electric vehicle production in the region," said Rommel Juan, president of the Electric Vehicle Association of the Philippines (EVAP).
To prove his point, he announced the ambitious industry target of putting one million electric vehicles on Philippine roads by 2020.
"It's not impossible because this includes two-wheelers like electric bikes, electric motorcycles, 3-wheelers like electric tricycles, and the e-jeepneys," Juan said.
The Asian Development Bank (ADB) and the Department of Energy (DOE) are about to finalize a project to replace 200,000 conventional tricycles with electric versions. The 5-year project will see to it that 100,000 electric tricycles or e-trikes will be used all over the country by the end of 2017.
The DOE is set to announce the winner of the public bidding for the supplier of the first 3,000 e-trikes in the next few weeks.
"The e-tricycles will be distributed all over the country starting with 500 in Mandaluyong City, 500 in Manila, 500 in Tarlac, and others," said ADB principal energy specialist Sohail Hasnie.
The DOE will coordinate with local government units, local industry players, and associations of tricycle operators and drivers to make this happen.
E-future?
The e-vehicle industry is poised to take flight in the Philippines for several reasons, said Juan.
The biggest driver is the amount of fuel costs saved by using an e-vehicle. A motorist saves up to 80% of the money they would normally use to gas up their car.
An ADB study shows that regular trike drivers spend P250 ($ 5.6) a day on fuel. An e-trike would bring that down to P50 ($1.1), the cost of charging the battery for around two hours that would allow the trike to travel 40 kilometers.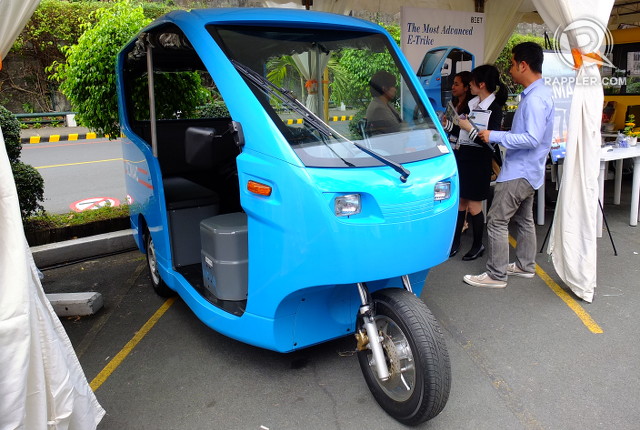 HI-TECH TRIKE. The Bemac e-tricycle from Beet Philippines has regenerative breaks that convert kinetic energy to electric energy, adding energy to its battery every time the driver brakes
The fuel savings are a consolation for the still high prices of e-vehicles