NPD Solarbuzz (Santa Clara, California, US) has issued a new analysis which states that cumulative global solar photovoltaic (PV) capacity is likely to double from 2012 to 2015 to over 200 GW.
Senior Analyst Michael Barker notes that while the 2012 PV market did not grow as much as many hoped for, it still set a new record for annual installations.
This allowed the cumulative global PV capacity to reach 100 GW during 2012, roughly double 2010 levels.
This pattern has allowed cumulative installations to double every two years since 2004. However, as annual growth rates declined from 2011-2012 and are expected to stay low in 2013, this will reduce the doubling rate to every three years, under current policy and price conditions.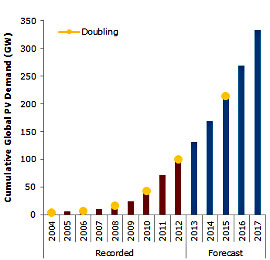 Cumulative global installed photovoltaic capacities have doubled every two years on average since 2004.