The world's largest concentrated solar power plant, Shams 1, launched on Sunday.
Taking three years to build, the $600m plant is located in Abu Dhabi's western region, in the heart of the UAE's hydrocarbon industry.
At full capacity, the 100 megawatt Masdar, Total and Abengoa joint-project will power thousands of homes in the United Arab Emirates and displace 175,000 tons of CO2 a year.
Located in the Western Region of Abu Dhabi, the 100-megawatt, grid connected power plant will generate clean energy to power 20,000 homes in the UAE.
His Highness President Sheikh Khalifa bin Zayed Al Nahyan expressed his pride in the inauguration of Shams 1, calling it a major achievement in the UAE's goal of energy and economic diversification.
"Expanding our leadership into renewable sources of power demonstrates the United Arab Emirates' commitment to maintaining its position as a major provider of energy," said His Highness Sheikh Khalifa bin Zayed Al Nahyan. "The inauguration of Shams 1 is a major milestone in our country's economic diversification and a step toward long-term energy security.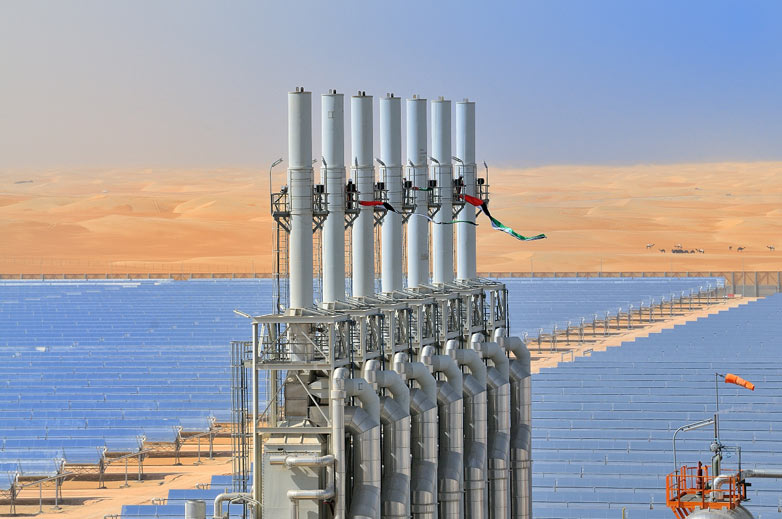 "We are proud of the young Emiratis that worked on this project," said His Highness. "The expertise they gained, working closely with international companies and building a project of such scale, is the type of human capital development that will enable our country to secure long-term energy leadership.
"Shams 1 is a strategic investment in our country's economic, social and environmental prosperity," added His Highness. "The domestic production of renewable energy extends the life of our country's valuable hydrocarbon resources and supports the growth of a promising new industry."
The ceremony was also attended by His Highness Sheikh Mohammed bin Rashed Al Maktoum, Vice President and Prime Minister of the UAE and Ruler of Dubai; His Highness General Sheikh Mohammed bin Zayed Al Nahyan, Crown Prince of Abu Dhabi and Deputy Supreme Commander of the UAE Armed Forces, as well as other members of the UAE leadership.
Holding nearly half of the world's renewable energy potential, the Middle East and North Africa is poised for unprecedented growth in renewable energy.
"The inauguration of Shams 1 is a breakthrough for renewable energy development in the Middle East," said His Excellency Dr. Sultan Ahmed Al Jaber, CEO of Masdar. "With the demand for energy rising exponentially, the region is undergoing a major transformation in how it generates electricity. In fact, the Middle East is poised for major investments in renewables, and Shams 1 proves the economic and environmental advantage of deploying large-scale solar projects."
"Our wise leadership recognizes the immediate and future benefits of renewable energy," added Dr. Al Jaber. "Investments in sophisticated projects like Shams 1train our future energy leaders, create specialized jobs and encourage economic development. Renewable energy is fundamental to achieving a diversified energy mix and extending the life of our precious hydrocarbon resources. Clean energy, is aligned with the legacy of conservation instilled in us by our founding father, Sheikh Zayed bin Sultan Al Nahyan."
Shams 1 was designed and developed by Shams Power Company, a joint venture between Masdar (60%), Total (20%) and Abengoa Solar (20%).With the addition of Shams 1, Masdar's renewable energy portfolio accounts for almost 68% of the Gulf's renewable energy capacity and close to 10 percent of the world's installed CSP capacity.
"Abu Dhabi is investing and incubating a new energy industry," added Dr. Al Jaber. "Through Masdar, we are redefining the role our country will play in delivering energy to the world. From precious hydrocarbons exports to commercially viable renewable energy projects, we are extending our legacy for future generations."
The innovative CSP project reduces the UAE's carbon emissions, displacing approximately 175,000 tonnes of CO? per year, an equivalent to planting 1.5 million trees, or taking 15,000 cars off the road. With solar power generated during peak demand, the UAE can reduce its need for "peak shaving" generators, which are expensive and idle most of the year.
"As a long-lasting partner of Abu Dhabi, we are particularly proud to have been part of the challenging adventure that was Shams 1 construction. This is a major step in the process of transforming the capabilities of solar power in the region," said Christophe de Margerie, chairman and CEO of Total. "We share Abu Dhabi's vision that renewables have a promising future alongside fossil energies. Total is today a world leader in solar industry. As such, we are pleased to accompany the Emirate in the diversification of its energy mix."
Covering an area of 2.5 km