Masdar is bidding for a slice of Saudi Arabia's burgeoning solar market after opening the 100 megawatt Shams-1 Concentrating Solar Power plant in Abu Dhabi.
The company is seeking to capitalise on an emerging market as regional oil-exporting economies seek to boost their renewable energy output. "In the near future we will be announcing projects in the Middle East and North Africa region," said Sultan Al Jaber, the chief executive of Masdar, Mubadala's clean energy unit.
He was speaking at the inauguration of the Shams plant, the first of a series of renewable energy projects that will provide 7 per cent of the emirate's electricity by 2020, according to government plans. Masdar is the majority owner of Shams, with France's Total and Spain's Abengoa sharing the remaining stake.
Mr Al Jaber is keenly aware of the potential held by Saudi Arabia, which is about to embark on an energy revolution. Over the coming decades, the world's biggest oil producer aims to develop 54 gigawatts of renewables capacity at a cost of billions of dollars.
"Saudi Arabia is one of our target markets," he said. "We will go wherever the projects make sense, as long as there is a regulatory framework that is solid, that's reliable, and as long as the returns meet our commercial thresholds."
The first tenders for solar plants are scheduled for the first half of this year, when 500 megawatts to 800MW of generation capacity will be bid for, according to a February white paper by the King Abdullah Centre for Atomic and Renewable Energy, the body overseeing alternative energy development.
The white paper specified plans first laid out last year: 41GW of solar energy out of an overall renewables target of 54GW that will also draw on geothermal, wind and waste-to-energy projects.
The UAE's and Saudi Arabia's ambitions show that solar power is increasingly regarded as a viable alternative to fossil fuel-generated electricity, which comes at a huge cost in countries that are experiencing a surge in demand.
"There is a business case, an economic case, there is a climate change case, [and] there is a political case for renewable energy in the Middle East," said Adnan Amin, the director general of the International Renewable Energy Agency (Irena).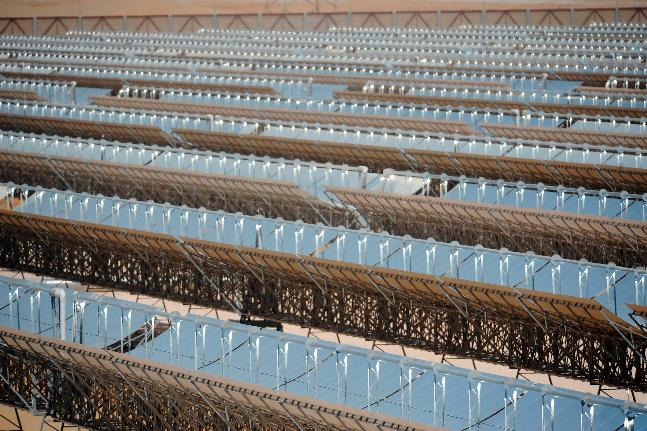 "The Middle East will eventually not only be the biggest oil producer, but will also become one of the biggest renewable energy producers."
Masdar remains committed to implementing Abu Dhabi's renewables goals. The next solar project, a 100MW photovoltaic plant, will be announced this year, according to Mr Al Jaber.
"Noor-1 is in its final stages of evaluation. It is a project for 2013, so probably in the second half of 2013 you will see the announcement."
Concentrated solar power (CSP), the technology deployed
at Shams-1, is likely to also be used in Abu Dhabi's oilfields to boost production. The technology works by creating steam, and steam is also used in enhanced oil recovery (EOR) methods.
"CSP is a very promising technology for EOR," said Mr Al Jaber. "We will soon be looking to scale up CSP for EOR."
http://www.helioscsp.com/noticia.php?id_not=1702