Chevron Corp.'s Hawaii operation is planning to develop a solar thermal demonstration project at its Kapolei refinery, which will be used to offset burning fossil fuels utilized to generate heat and steam for internal use.
The 15.5-acre project, dubbed the "Chevron Hawaii Concentrated Solar Process," is expected to break ground in the second half of this year and be operational by the beginning of next year, according to Chevron spokesman Al Chee, who told PBN that a contractor has yet to be chosen.
The project is being managed by California-based Chevron Technology Ventures, the research and development arm of Texas-based Chevron Corp. (NYSE: CVX).
In a final environmental assessment filed with the state office of Environmental Quality Control, Chevron said that the site is currently being used to store equipment and as a temporary staging area and working area for other projects on the refinery. Several permits still need to be issued for the proposed project, including a special management area permit.
Solar thermal energy technology works by utilizing mirrors to focus sunlight onto a piping system where heat-transfer fluid is heated within a closed system to a high enough temperature to produce steam in a generator, which is then fed into the current refinery steam system.
"[The project] will allow us to increase our efficiency," Chee said. "The business of refining crude oil into byproducts such as jet fuel and gasoline is very expensive."
He also says that Chevron is looking into developing a solar demonstration photovoltaic project on its 248-acre refinery site. If successful, Chee says that it could serve as a model for bigger Chevron refineries on the Mainland.
"We are always looking for ways to reduce costs," Chee said. "A huge amount of energy is consumed out here."
Chevron will become the lone refinery in the state in April, after Tesoro Corp. (NYSE: TSO) plans to convert Hawaii's largest refinery into an import terminal at that time.
Chee deflected the East-West Center's Fereidun Fesharaki's prediction that Chevron would be closing its refinery in 2015.
"We are not closing in 2015," Chee said. "It takes a long time to plan these things and thus far we haven't gone that far in any of our analyses, [so] right now, our decision is to continue where we are and evolve in the market."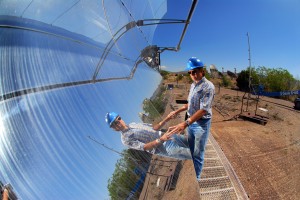 http://www.helioscsp.com/noticia.php?id_not=1655