Global Village Energy Partnership (GVEP), a non-governmental organization that aims to increase access to clean and affordable energy, has marked the end of one of its energy projects after gauging the level of its success.
The venture, known as Developing Energy Enterprise Project (DEEP), has since 2002 been working to increase access to modern energy and reduce poverty in East Africa by supporting the development of markets for fuel-efficient, affordable cook stoves.
"DEEP has supported local East African entrepreneurs working in renewable energy technologies including improved cookstoves; biomass briquettes, which are a cleaner alternative to charcoal; solar photovoltaic products; biogas and the value chains around these businesses," Regional Program Manager Daniel Macharia told in Nairobi.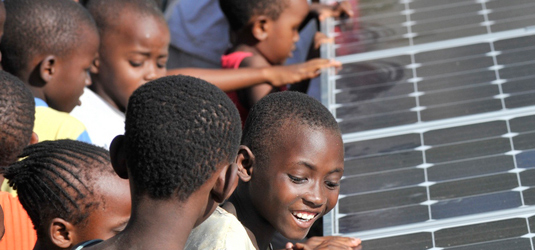 "We work with entrepreneurs at the bottom of the pyramid in rural and peri-urban areas where access to modern energy for lighting and cooking is low or non-existent."
Spanning five years, DEEP has focused on supporting micro, small and medium enterprises in the renewable energy sector, primarily in rural areas throughout East Africa where access to modern energy is still a challenge.
In Kenya alone, it is estimated that over 15 million people are directly exposed to indoor air pollution as a result of cooking with fuel wood or charcoal-based fuels on inefficient fires and stoves, sometimes resulting into deaths.
The majority of the deaths are among women and children who do most of the cooking and spend a larger portion of their time indoors.
These deaths are largely avoidable with the use of modern energy in the form of cleaner fuels, more efficient stoves and better ventilation.
Macharia said the rationale of implementing the project was due to identified gaps in the East African energy access landscape that micro and small energy enterprises could be a solution to unlock and enhance access to clean energy products and services if an appropriate intervention was put in place.
"The project has provided this primary support through nurturing micro and small energy enterprises by way of a menu of activities including business development support, energy technology improvement support, mentorship, coaching and business financial linkage."
Through the five years DEEP has supported over 1,000 micro and small energy enterprises of which 900 are active and delivering products and services to their communities as well as created approximately 3,000 jobs.
It has also reached over 4 million beneficiaries with energy products and services such as improved cookstoves, briquettes, solar phone charging and lighting in addition to changing how the micro and small energy enterprises do business through enterprise to enterprise linkage, marketing and promotional events, business planning, products improvement and standardization.
As of December 2012, DEEP had about 400 improved cook stove entrepreneurs in East Africa.
Patrick Mwangi, who comes from Nyeri County in central Kenya and is the proprietor of Alfastar Industries which he pioneered 10 years ago in the briquette-making industry, told a symposium in Nairobi recently that he was inspired into briquette-making after seeing the enormous amounts of waste which came from farms and other sources and immediately seized the opportunity to recycle the waste and make money from it.
"I produce the energy-saving products using organic waste material like sawdust, bagasse paper, coffee waste, rice husks and charcoal dust to make briquettes, whose advantages, compared to other fuels, include conserving the environment through the avoidance of cutting down of trees. With one stove load one can prepare many meals because of their long burning hours," Mwangi said.
With a customer base comprising of mainly domestic users and small business owners, Mwangi sells a 50kg sack of briquettes for 10 U.S. dollars compared to a sack of ordinary charcoal that sells at twice the amount and will only last half the time; showing the cost-effectiveness of briquettes.
He credits the 5-year program with exposing him to people he would otherwise never have reached on his own and for facilitating his acquisition of the Kenya Bureau of Standards mark of quality that he puts on his brand of briquettes, which he says gives his customers more confidence.
His namesake Peter Mwangi is a former artisan but now refers to himself a technical director, after he revamped his cook stove business that he established in 1996 following a grant of 6,000 dollars from GVEP and which has since turned him into a middleclass Kenyan.
"While my peers in the business were still procrastination on making a decision whether to embrace the proposals from my benefactors, I plunged into it head on and benefitted from their free training and practical sessions. Now they are the same ones asking me how I managed to turn my business around."
He said the skills he garnered under the project such as book- keeping and frugal use of funds has enabled him to expand his business and is now a net supplier of clean cook stoves and boilers to schools in Nakuru County, though his immediate dream is to venture into the East African region market and later go international.
"I have bought a residential plot, a pick-up for deliveries and also drive a family car, through a venture that not many people, myself included, gave much chance of breaking even."
Since John Konzolo was introduced to the project in 2008, he has opened two other outlets where he stocks and repairs solar products.
"Unlike in the past when clients I installed solar products for would complain of shoddy workmanship, today is a different story and all my customers are contented with my work."
About 80 percent of sub-Saharan Africans don't have easy access to modern forms of energy. To cook their food, heat their homes, educate their children and earn a living, they rely on unhealthy, expensive and unsustainable options.
Collecting wood to provide a cooked meal for your family is hard work; buying charcoal for the same purpose is expensive. This limited access to energy consigns many to live in poverty and exposes them to significant health impacts.
Compared to traditional cooking methods, an improved cook stove is more energy efficient and hence uses less biomass to cook the same amount of food. It also reduces the amount of smoke and harmful emissions given off by the burning biomass.