After experiencing the world's largest blackout this past summer, India is urgently searching for ways to improve the stability of its electric grid. Hundreds of millions of people need affordable electricity in India, and businesses and other institutions are looking to the government to ensure reliable electricity in rapidly growing cities throughout the country. Released just today, a new NRDC report shows that concentrated solar power, a specific-type of solar energy system involving mirrors and concentrated solar light, could be a key tool in achieving a secure and diversified energy future for India.
From energy efficiency to clean energy sources like solar power, the Indian government is taking significant steps to spur new clean energy industries and ensure reliable electricity into the future. Today's report, released in partnership with the New Delhi-based Council on Energy, Environment and Water (CEEW), follows the progress of one of these industries, tracking concentrated solar power (CSP) projects over the last two years.
Under the country's ambitious solar program, the National Solar Mission (NSM), India has jumpstarted its solar energy industry, fostering growth in both photovoltaic (PV) projects and CSP, also known as solar thermal. Before the Mission began, CSP projects only provided 8.5 megawatts (MW) of energy. Two years later, the large-scale CSP projects now underway in India will provide a projected 500 MW of clean, reliable energy under the NSM. Given the short time frame of the Mission, these numbers are impressive. In a matter of just a few short years, solar in India has gone from a small market to a significant provider of renewable electricity. And there is even more untapped potential just around the corner.
But India has a long way to go in fostering a sustainable solar energy market.
Unlike traditional solar panels, CSP projects involve systems of mirrors that concentrate a large area of sunlight onto a small area of contained liquid. The liquid heats up, emits steam, and a turbine and electrical power generator convert the steam to electricity.
Grid-connected CSP project currently being constructed under the NSM. Photo used with permission. 
This means that in the future, CSP could facilitate electricity storage, rather than energy available only when the sun is shining.  As a result, large-scale CSP could provide several potential benefits for India's energy mix. CSP would help India meet its base-load energy needs, and could be called upon for supplemental electricity during times of peak usage. All this contributes to greater grid stability, meaning that CSP could help avoid another colossal blackout like we saw this summer, when trains stalled, businesses ground to a halt, and more than 680 million people went without power around the country. It is important to note that steps are being taken internationally to integrate other forms of solar into the electrical grid to provide more constant sources of energy as well.
But as India enters the second phase of its National Solar Mission, the CSP sector has some serious hurdles to overcome, as Dr. Arunabha Ghosh and I discuss in today's Business Standard.  There's a high initial capital cost associated with CSP, making it hard for projects to get off the ground. Because of a lack of information, investor confidence is shaky in the CSP industry. And, currently, the majority of CSP projects are facing delays and struggling to meet their commissioning deadlines.
In our new report, NRDC and CEEW provide important recommendations for the Indian government and stakeholders to address these challenges and ensure the long-term feasibility of CSP. Here are a few of the recommendations. You can find the complete list here.
Develop a Clear Roadmap: To reach India's Phase 2 targets for solar power production, the solar sector needs long-term signals about the direction of the market, policy priorities, and support measures. India's Ministry of New and Renewable Energy (MNRE) can help ramp up India's solar mission by laying out a clear roadmap for Phase 2, without locking in one technology. MNRE could continue to foster both CSP and PV technologies by evenly allocating contracts for power produced between the two technologies, or devise a new form of allocation – thus providing market confidence and ensuring diverse energy resources thrive in this critical stage.
Increase Transparency: MNRE should increase information made publicly available on the bid selection process, the status of project commissioning, and power being produced. Other government agencies can assist in increasing transparency by developing case studies on existing CSP projects, to highlight their financial viability and encourage new players to participate in the market. The market for renewable energy is changing quickly and more real-time information will help develop a track record and build confidence in the CSP market.
Investigate Delays and Monitor Timeline Extensions: Phase 1 projects are struggling to meet deadlines, and the government should enforce commissioning timelines for Phase 1 to avoid setting a precedent of leniency. Looking ahead, the government should help develop more realistic timelines for projects, taking into account foreseeable causes of delay, and determining which unforeseeable delays merit deadline extensions. Perceptions matter for investors and meeting deadlines on time is a key factor that will shape investor perceptions of CSP viability in India.
Facilitate Innovative Financing: In order to attract CSP investment, MNRE should help develop financiers' comfort with nonrecourse project financing, such as government-backed loan guarantees. The government should also work with the Indian Banks' Association (IBA) to share information on the sector's track record, and reduce doubt among investors using CSP-knowledgeable engineers in an advisory role. 
Enforce Renewable Purchase Obligations (RPOs): The Indian government should continue to analyze effective approaches to enforce renewable purchase obligations (RPOs), the renewable energy mandates that energy distribution companies in India must meet. One option could include requiring states to deliver RPO enforcement policies as a condition for receiving funds from the central government.
Offer Incentives for Innovation: The Indian government should offer incentives to project developers to adopt storage technologies and water-efficient CSP plants, in order to fully exploit the potential of CSP technologies.
It's critical that under Phase 2 of the Mission, the Indian government not force a false choice between CSP and PV technologies. Instead, the government should continue to implement policies that support a diverse energy profile, with both CSP and PV projects playing a part. This will help ensure reliable and affordable electricity for the Indian people, while creating exciting new business opportunities for domestic developers, manufacturers, and suppliers.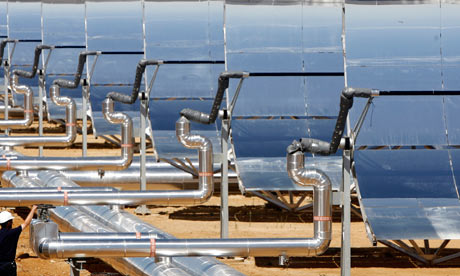 With financiers searching for clear market signals before they further invest in CSP, the Indian government has a historic opportunity to implement smart policies that develop India as a global leader in CSP technologies.
By Anjali Jaiswal, Senior Attorney, San Francisco, http://switchboard.nrdc.org/blogs/ajaiswal/
http://www.nrdc.org/international/india/files/india-concentrated-solar-power.pdf