Reuters is reporting that Deepwater Wind is working to build the first U.S. wind farm off Rhode Island.
Deepwater Wind is racing to build the first U.S. offshore wind farm off Rhode Island and hopes to parlay that into a string of East Coast farms.
The privately held U.S. wind power developer plans to begin construction of the $250 million, 30-megawatt (MW) Block Island project by early 2014, ahead of a farm proposed by Cape Wind long expected to be the nation's first offshore facility.
"The Block Island project is on target to become the nation's first offshore wind project," Deepwater CEO William Moore said.
Deepwater submitted the final state and federal permit applications for Block Island on Tuesday.
The project, powered by five Siemens 6-MW turbines, will generate enough electricity for about 10,000 homes in Rhode Island. A U.S. unit of UK power company National Grid PLC will buy power from the Block Island wind farm for its Rhode Island customers.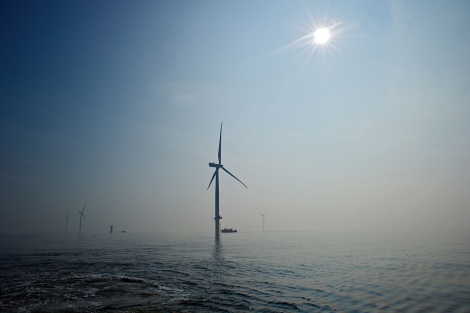 The company is also planning other projects off the Atlantic Coast, with three 1,000-MW projects currently in the works, each capable of powering about 350,000 homes.
Deepwater, majority-owned by New York investment firm DE Shaw and minority-owned by Boston-based wind developer First Wind, gained the advantage over other offshore wind developers after Rhode Island picked the in-state Providence-based company as its preferred developer.
Rhode Island was not the first state to consider the clean energy prospects offered by offshore wind farms, but it moved decisively over the past few years after concluding offshore wind should be part of its energy mix.