The wind industry, which was booming while the rest of our economy was struggling, now is in danger of withering away.
Who's to blame? Congress.
On Wednesday, more than 300 Americans at LM Wind Power's manufacturing facility in Grand Forks lost their jobs.
Last week, more than 600 workers in Siemens Energy's wind division were laid off in Iowa, Florida and Kansas.
Before that, nearly 200 Clipper Wind employees were let go in Iowa. Before that, Vestas Wind Systems cut 30 workers in Colorado.
Before that, DMI laid off about 170 workers in Tulsa, Okla., and 200 more in West Fargo, N.D.
You get the picture.
When they left Washington a week ago for the campaign trail, where they're sure to make plenty of promises about creating jobs and reviving the economy, lawmakers let one of the most economically beneficial tax policies tick its way toward expiration on Dec. 31, leaving the wind industry and all its workers to twist in the wind.
The production tax credit gives wind energy companies with a tax credit of 2.2 cents per kilowatt hour for the first 10 years of electricity production from utility-scale wind developments. Created during the George H.W. Bush administration, the credit is designed to help level the playing field between wind and other renewable fuels and the fossil fuels industry, which has been — and continues to be — heavily subsidized.
The credit is not some government handout for speculative projects. Companies can't even claim it until the factory workers, construction laborers, electricians and others finish their work, and a wind farm is up and running and generating electricity.
Until recently, more than 75,000 Americans worked in the wind industry, typically at higher-than-average wages. Every time a new major wind farm opens, it creates nearly 1,100 new jobs across the supply chain.
So, don't think the layoffs in the wind business are happening because the industry is weak. The wind industry is strong, growing and important.
Wind energy generation in America has increased by nearly 200 percent in the past four years alone and accounted for more than 32 percent of all new electricity generated last year. Some states, such as Iowa, now get as much as 20 percent of their power from clean, renewable wind.
Investors and the industry have pumped more than $20 billion in private investment into our economy, and wind farms now are some of the biggest contributors to the local tax bases in many communities.
The Shepherd's Flat wind farm that's scheduled to open in Oregon next week is a good example of the economic power of wind. One of the largest wind farms in the world, it'll pump an estimated $16 million into Oregon's economy each and every year. More than 400 jobs were created in the construction industry alone to build it.
Jobs. Economic growth. More made-in-America energy. Less pollution: Members of Congress claim they are for these things. But despite having had all year to pass an extension of the credit that could keep the wind industry and its employment growing, they failed to do so.
To be sure, some smart members of Congress — Republicans and Democrats alike — are trying to get their colleagues to act.
Sen. Ron Wyden, D-Ore., and Sen. Charles Grassley, R-Iowa, among others, are pushing their colleagues to renew the credit before it's too late for the remaining workers in the wind industry.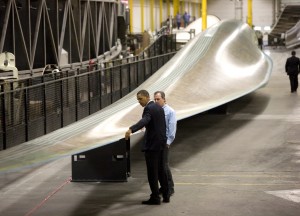 But others, led by House Republican leadership, are blocking the credit just to score political points.
As a result, wind industry workers keep losing their jobs.
When our lawmakers are back home over the next several weeks, we should remind them what they can do if they actually want to live up to their promises about job creation and economic growth:
Pass the production tax credit, and pass it quickly.
By Nicole Lederer, http://www.e2.org/jsp/generic.jsp
Lederer is co-founder of Environmental Entrepreneurs (E2), a group of business leaders who believe sound environmental policy can build prosperity.