France's government begins a review of the world's most nuclear-dependent country's energy policy on Friday (14 September), strongly in support of its small and ailing renewables sector in an effort to boost local jobs and growth.
The French government will launch a second tender to build offshore wind parks on Sept. 16, followed by a third next year, a French industry source said on Monday, as the country seeks to become a leading player in the industry.
The French energy ministry declined to confirm the move, which is part of the previous government's plans to increase offshore wind power capacity to 6 gigawatts (GW) by 2020.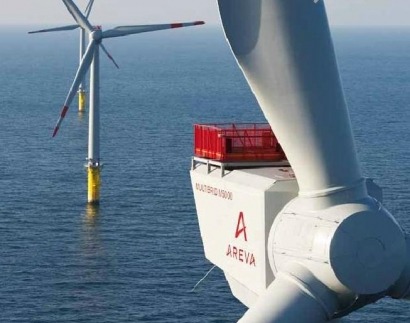 Areva wind turbines
France aims to meet 23 percent of energy demand through renewable power by 2020. The country has 7,000 MW of installed onshore wind power, far behind Germany, the European Union's top onshore wind producer with 28,000 MW.
The latest tender offer is for one wind farm off Le Treport in northern France with a capacity of 705 megawatts (MW) and a second off the island of Noirmoutier with a capacity of 600 MW.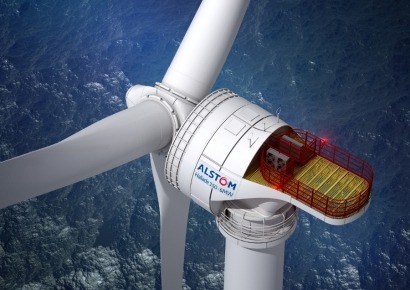 Alstom wind turbines
"A third tender will be launched after the energy transition debate," the source told Reuters. "That tender will complete what was lacking to reach the 6,000 megawatts."
The Socialist government plans to debate France's future energy policy in the coming weeks with the aim of delivering a law in the first half of 2013 to boost energy efficiency and renewable energy, and lower the share of nuclear power in the electricity mix to 50 percent by 2025 from 75 percent now.
Under President Nicolas Sarkozy, France awarded a first tender in April for four offshore wind parks with a total capacity of 2,000 MW and value of 7 billion euros ($8.96 billion).
France's EDF and Alstom came out as winners of three and Spain's Iberdrola along with French nuclear reactor maker Areva took the fourth.
French utility Suez and Germany's Siemens were unsuccessful in a bid to build an offshore wind farm at a fifth site off Le Treport, which is now part of the second tender.
EDF won tenders for sites at Saint-Nazaire, Courseulles-sur-Mer and Fecamp, while Iberdrola and Areva will build a wind farm at Saint-Brieuc, with production starting in 2020.
Britain is the world's top offshore wind market with around 2,000 MW installed and plans to become a major hub for offshore wind manufacturing and research.
In Germany, Chancellor Angela Merkel's cabinet approved a draft law on Wednesday to accelerate the expansion of offshore wind parks, a crucial part of a planned shift to green energy from nuclear.
Ministers, NGOs, unions, industries, parliamentarians and consumers will converge for a two-day conference to agree on how to conduct a six-month national debate that will seek to reshape the way energy is produced, consumed and taxed in France.
Its new Socialist government is expected to announce immediate measures to help the crisis-hit renewable energy sector – which employs 100,000 people – as part of its battle to tackle soaring unemployment.
"There are businesses which are struggling and we can today save jobs," said a senior official at the energy ministry, who declined to be named. "Our concern is the notion of ecological patriotism, which is to ensure that support to the sector actually translates into jobs in France."
France's renewable energy lobby reckons the sector could generate 225,000 jobs by 2020 with investments totalling €80 billion, provided production targets are met.
In 2011, renewable energy revenues in France reached €10 billion ($12.89 billion), puny when compared to the $257 billion worldwide.
The conference is a follow-up to a series of political debates under former President Nicolas Sarkozy in 2007 – dubbed the Grenelle de l'environnement – that set ambitious goals to raise the share of green sources in France's energy mix and cut CO2 emissions.
But the economic crisis, a speculative bubble in the solar sector that led to dwindling feed-in tariffs, and increasing red tape in the wind power industry, have slowed down growth in renewable energies over the past two years.
Important measures
Renewable energy makes up 13% of the energy mix, well below the 23% target set by Sarkozy for 2020. Nuclear power still represents 78% of the electricity mix, wind power stands at 2% and solar power less than 0.5%.
While President Francois Hollande has pledged to cut France's reliance on nuclear power to 50% by 2025, Industry Minister Arnaud Montebourg has described it as a "promising sector." Low electricity bills have become essential to France's strategy to regain lost competitiveness.
Hopes for offshore wind power and solar energy

One key measure that could be announced this weekend is a second tender to build offshore wind farms, a sector where France massively lags neighbours such as Britain, one industry source said.
Another keenly awaited move is whether the government will temper a slowdown in the drop of feed-in tariff for solar power. The tariffs are paid by state-controlled utility EDF and consumers to subsidise renewable energy sources.
The struggling sector hopes the government will agree to limit the drop to 10% per year instead of per quarter.
Also a thorny issue for the wind power sector is the urgent need to cut red tape, which the industry says has led to 1,000 job losses. The gap between submitting a request to build a wind farm and its commissioning could be as many as 7 years.
The government could also decide to tax kerosene for internal flights to generate income and to set a more ecological taxation system, sources taking part in the debate told Reuters.
http://www.evwind.com/2012/09/15/francia-lanzara-licitaciones-para-la-energia-solar-fotovoltaica-y-eolica/