Wind power is the second most competitive form of such energy production in the country.
In June of this year, the wind power industry accounted for 2 GW of installed capacity of power generation, spread over 71 farms.
By the end of 2016, the goal is to insert 8.4 GW of wind power on the national electric system, which would represent a 5.4% share in the Brazilian power grid, compared to the 1.5% share it currently represents.
"It will continue to grow over time and by 2020, wind power should attain a 15% share, provided that we maintain this pace of procurement."
Around 2 GW per year is expected to be contracted at procurement auctions. The number of equipment manufacturers in the country has increased from only two in 2008 to 11 last year.
"Today, wind power alone is not cheaper than large hydroelectric plants," said Elbia Melo, President of the Brazilian Association of Wind Power (Abeeólica).
Investment made by the wind power industry in all procurement auctions held in Brazil between 2004 and 2011 reached R$ 25 billion.
The potential for wind power in the country amounts to 300 GW and is concentrated primarily in the Northeast and the South, and particularly in the states of Bahia, Rio Grande do Norte, Ceará and Rio Grande do Sul.
This figure was revised this year, based on the new technology that has been put in place. The first analysis, conducted in 2001, identified potential wind power generation in the order of 143 GW.
Wind power is now enjoying a new phase of competitiveness in Brazil, with an additional R$ 40 billion in investments expected by 2020.
This new phase, which began in 2009, has resulted in the procurement of 6.7 gigawatts (GW) of power, at a price of R$ 100 per megawatt/hour (MWh).
The first investments in wind power in the country were made in 2004, with grants from the Alternative Electrical Energy Sources Incentive Program (Proinfa).
The goal was to introduce new technologies and renewable forms of energy production, including small hydro power (SHP), biomass and wind power.
Organizers
GWEC
GWEC is a trade association working to create a better political environment for wind energy, it works on legislative, regulatory affairs, financial systems and public relations in more than 40 countries.
ABBEólica
The Brazilian Association of Wind Energy – ABEEólica, legal entity of private non-profit organization, brings together companies belonging to the generating wind power chain all over Brazil.
Grupo CanalEnergia
Grupo CanalEnergia is the leading content provider for the Brazilian Power & Utilities market. It operates the major online media outlet for the industry in the country, as well as a news agency and six other business units.
The Market
Wind power is now the fastest growing source of power generation in Brazil. Since 2009, when the Brazilian government took a series of incentive measures to introduce wind power in the Brazilian energy matrix, the energy auctions have already contracted about 6GW of installed power.
And this rapid growth is just beginning. Nowadays, wind power is the most competitive among all sources of electricity, second only to large hydroelectric plants, which are increasingly difficult to install due to environmental issues in Brazil.
Therefore, the winds that bring renewable energy to Brazil also create great opportunities for your company. The 6GW of new power already contracted, and to be installed, ensures a potencial market investment around USD15BI in the coming years.
The Brazilian wind power potential is estimated at 300GW and the expectation of the energy industry is to contract at least another 2,5GW per year until 2020. Adding, as of 2012, an extra 20GW of wind power to the system, at projected investments around USD50BI.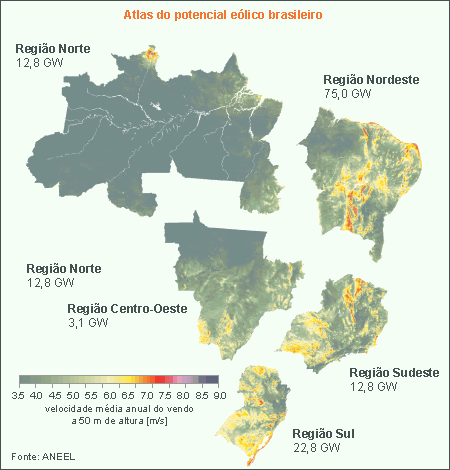 There is no better moment for your company to take advantage of the thriving wind power market in Latin America. The 3rd BWP Conference & Exhibition is the best opportunity to be part of the Brazilian and Latin American wind market. Now is the time to ensure your company's participation in the largest wind power event in Latin America.